Page 122 - SS22 Cook & Dine Catalogue Int
P. 122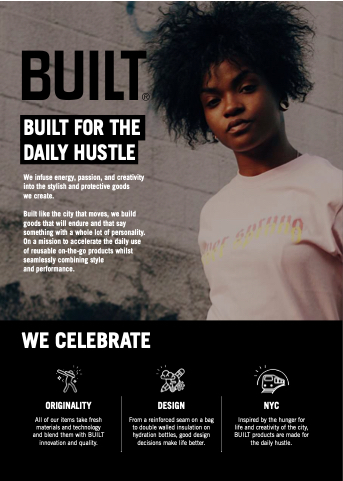 Header
 BUILT FOR THE
DAILY HUSTLE
We infuse energy, passion, and creativity into the stylish and protective goods
we create.
Built like the city that moves, we build goods that will endure and that say something with a whole lot of personality. On a mission to accelerate the daily use of reusable on-the-go products whilst seamlessly combining style
and performance.
WE CELEBRATE ORIGINALITY
     120
All of our items take fresh materials and technology and blend them with BUILT innovation and quality.
DESIGN
From a reinforced seam on a bag to double walled insulation on hydration bottles, good design decisions make life better.
NYC
Inspired by the hunger for life and creativity of the city, BUILT products are made for the daily hustle.