Page 40 - AreaNewsletters "Nov'19" issue
P. 40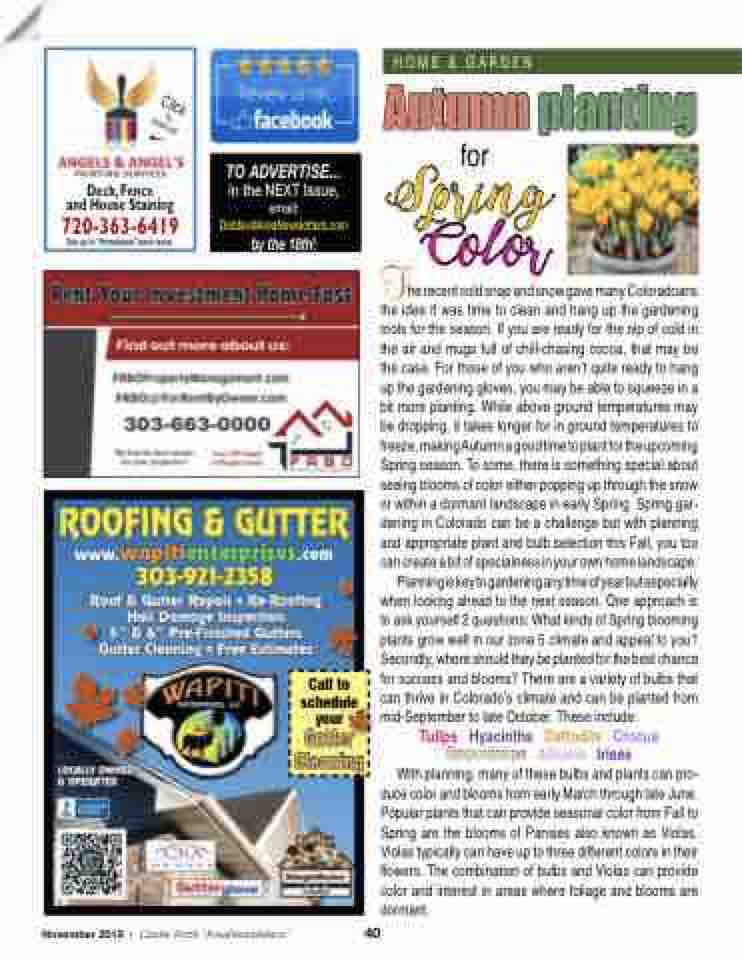 Angels
Deck, Fence and House Staining
720-363-6419
See us in "Homebase" each issue.
Autumn planting for
TO ADVERTISE...
in the NEXT Issue, email: Debbie@AreaNewsletters.com by the 18th!
Spring
Color
he recent cold snap and snow gave many Coloradoans the idea it was time to clean and hang up the gardening tools for the season. If you are ready for the nip of cold in the air and mugs full of chill-chasing cocoa, that may be the case. For those of you who aren't quite ready to hang up the gardening gloves, you may be able to squeeze in a bit more planting. While above ground temperatures may be dropping, it takes longer for in ground temperatures to freeze, making Autumn a good time to plant for the upcoming Spring season. To some, there is something special about seeing blooms of color either popping up through the snow or within a dormant landscape in early Spring. Spring gar- dening in Colorado can be a challenge but with planning and appropriate plant and bulb selection this Fall, you too can create a bit of specialness in your own home landscape.
Planning is key to gardening any time of year but especially when looking ahead to the next season. One approach is to ask yourself 2 questions: What kinds of Spring blooming plants grow well in our zone 5 climate and appeal to you? Secondly, where should they be planted for the best chance for success and blooms? There are a variety of bulbs that can thrive in Colorado's climate and can be planted from mid-September to late October. These include:
Tulips Hyacinths Daffodils Crocus Snowdrops Alliums Irises
With planning, many of these bulbs and plants can pro- duce color and blooms from early March through late June. Popular plants that can provide seasonal color from Fall to Spring are the blooms of Pansies also known as Violas. Violas typically can have up to three different colors in their  owers. The combination of bulbs and Violas can provide color and interest in areas where foliage and blooms are dormant.
T
For Rent By Owner FRBO Investment Home Property Management Dave Watts
www.wapitienterprises.com
Call to schedule your
Gutter Cleaning
November 2019 • Castle Rock "AreaNewsletters" 40
H O ME & G A R D E N
Click to email us!