Page 17 - AreaNewsletters "Mar'20" issue
P. 17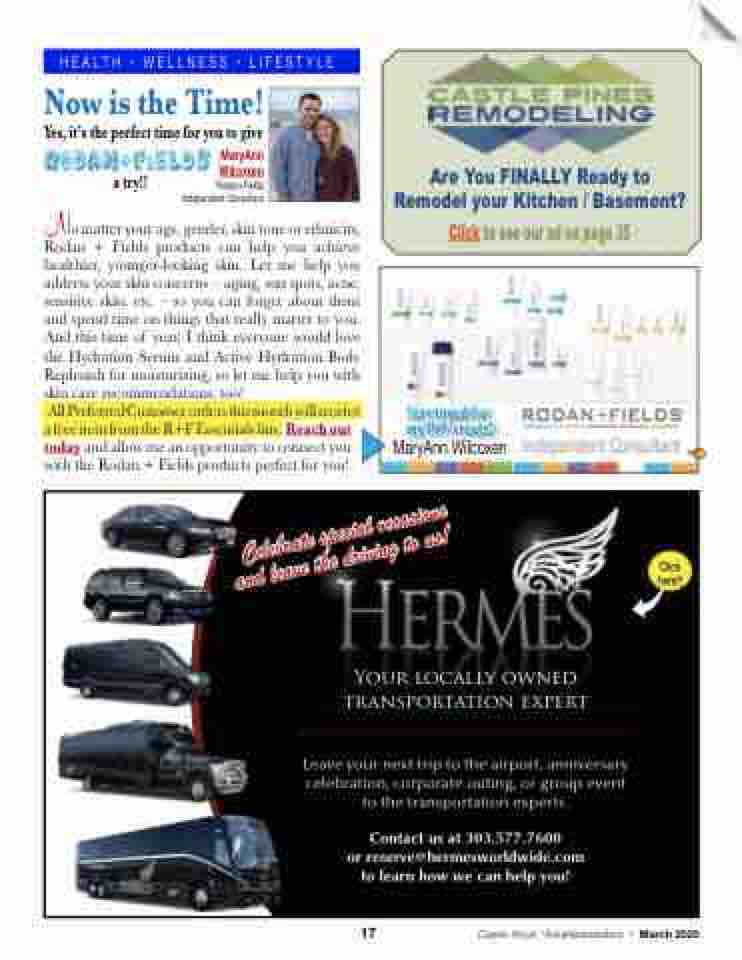 HEALTH • WELLNESS • LIFESTYLE
Now is the Time!
Yes, it's the perfect time for you to give
a try!!
MaryAnn
Wilcoxen
Rodan+Fields Independent Consultant
Are You FINALLY Ready to Remodel your Kitchen / Basement?
Click to see our ad on page 35
No matter your age, gender, skin tone or ethnicity, Rodan + Fields products can help you achieve healthier, younger-looking skin. Let me help you address your skin concerns – aging, sun spots, acne, sensitive skin, etc. – so you can forget about them and spend time on things that really matter to you. And this time of year, I think everyone would love the Hydration Serum and Active Hydration Body Replenish for moisturizing, so let me help you with skin care recommendations, too!
All Preferred Customer orders this month will receive
a free item from the R+F Essentials line. Reach out today and allow me an opportunity to connect you with the Rodan + Fields products perfect for you!
Stay tuned for my R+F events!
MaryAnn Wilcoxen
Click here!!
Your locally owned transportation expert
Leave your next trip to the airport, anniversary celebration, corporate outing, or group event to the transportation experts.
Contact us at 303.577.7600
or reserve@hermesworldwide.com to learn how we can help you!
17
Castle Rock "AreaNewsletters • March 2020
Celebrate special occasions and leave the driving to us!