Page 51 - Print21 July-Aug 2018 Magazine
P. 51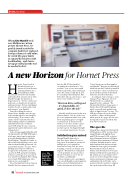 Print finishing
When John Mandile took over Melbourne custom printer Hornet Press, he quickly found a niche the company hadn't yet explored. Seeing a chance to add value, he seized the opportunity
to expand his business with bookbinding – and Currie Group provided just the tool he needed to do it.
A new Horizon for Hornet Press
Hornet Press, based in Knoxfield, has been a fixture of the Melbourne printing industry since its founding in 1982
by husband-and-wife team Graham and Sandra Bell. Current owner John Mandile bought the business in August last year. "On the commercial print side, we handle A1, A2 and A3, and large format. We have full digital facilities for A3, as well as offset and wide-format," says Mandile.
Soon after taking the reins at Hornet Press, Mandile noticed a gap in the market which he was uniquely suited to plug. "There wasn't really anyone on the south side who does trade binding, and I'm a bookbinder and finisher by trade, it's what I started off doing," he says. "I saw an opportunity to grow my business, and I jumped on it."
Currie Group supplied Mandile with the Horizon BQ-470 PUR/EVA binder, which gave him a huge leg up for his new trade finishing house, Eastlink Book Binding. "I bought the binder to offer a full trade finishing service, and that was how Eastlink got started. It's a great little machine," he says. "We're binding runs of up to 10,000 on it,
it's upped our own print because we can now do PUR and perfect binding in-house, and it's given us an array of new clientele for Eastlink. We're doing a lot of trade PUR binding for other printers since we bought it."
Since Eastlink launched in January, Mandile has been impressed with
how the BQ-470 has handled everything he's thrown at it. "It's versatile – you can use it for small books, large books, short and longer runs. The setup is really quick, and it's actually pretty bulletproof. BQ- 470s don't take up a lot of space, and they're very reliable," he says.
"Horizon kit is really good – it's dependable, it's quick, it does the job."
Mandile is full of praise for his new Horizon binder: "It's one of the best pieces of equipment that I own, aside from my printing presses. I highly recommend it. It churns out the work as we need to, and it's a great investment for my business. The machine's great, I'm happy I bought it – I've always wanted one," he says.
Satisfaction guaranteed
Though Mandile himself is a first-time buyer, Hornet Press is a long-term client that has purchased multiple pieces of equipment
from Currie Group over the years, including a variety of collators and staplers. "Horizon kit is really good – it's dependable, it's quick, it does the job. For what we use it for, it's excellent," said Mandile.
Currie Group's service and support have earned Mandile's seal of approval, and he says he'll definitely look at further investments in the future.
"Currie Group is an excellent supplier," says Mandile. "They gave us a date they'd install the machine, and they installed it on that date – they even offered to put in another machine beforehand until ours arrived in Australia."
According to Currie Group account manager Vince Pignataro, the new Horizon binder is a significant upgrade for the company. "The Horizon BQ-470 four-clamp perfect binder offers PUR and EVA gluing which covers all work quality from offset to digital stocks," he says. "The PUR gives Hornet Press the ability
to produce a flatter looking book when opened; the pages are also very strong and it's much less likely that they will ever fall out."
The spec fits
Using all four clamps, the Horizon BQ- 470 binds up to 1,350 cycles per hour using EVA glue and slightly slower with PUR at around 1,000 cycles per hour. Maximum book size is 320mm
x 320mm with a minimum of 145mm x 105mm. Book block spines can be milled and notched down to a depth
of 4mm for deeper glue penetration. Book thicknesses from 0.3mm to 65mm can be bound and covers up to 320mm x 660mm fed in and drawn on. All controls are via an intuitive 10.4" touch-screen for setting of the stepper motors and operator training is easy and minimal. Up to 200 jobs can be memorised in the machine's computer for repeat work and fast setup. 21
51 Print21 JULY/AUGUST 2018
Above: The Horizon BQ- 470 PUR/ EVA binder at Eastlink Book Binding.