Page 22 - Packaging News Magazine Jan-Feb 2019
P. 22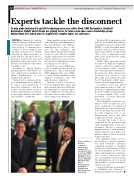 22
AUSPACK 2019
INDUSTRY 4.0 www.packagingnews.com.au
Experts tackle the disconnect
To help make Industry 4.0 and IIoT technology more accessible, Nord, SMC Pneumatics, Beckhoff Automation, Balluff and ZI-Argus are joining forces to form a new open-source knowledge group dubbed Open IIoT, which aims to simplify the complex topics for customers.
INVESTING in Industry 4.0 and the Industrial Internet of Things (IIoT) is becoming a much more impor- tant prospect for manufacturers seeking to better integrate and automate their processes. Cutting through the hype and jargon is
tricky, however, and there can be a disconnect between big ideas and putting those ideas into action – one that this new industry collaboration is looking to erase.
According to Martin Broglia, managing director of Nord Drivesys- tems, enthusiasm for Industry 4.0 among manufacturers is not matched with expertise.
"Industry 4.0 is causing much in- terest with manufacturers, and they do want to and actually have to adopt this technology – but there seems to be a disconnect on how to get there and what the real benefits in investing in Industry 4.0 technol- ogies would be," said Broglia.
"Many suppliers can provide their own technology, each with many ben- efits and advantages. The challenge manufacturers face is how to inte- grate all this technology and capture all the data into their existing systems," he said. "This leaves highly complex technologies to be integrated either by in-house resources or exter- nal contractors, which may be seen as too risky a project to take on."
Another issue, as noted by Broglia, is the economic pressure placed on manufacturers when purchasing OEM equipment; this causes OEMs to avoid offering machinery with advanced technologies that will make them less competitive.
"Therefore, I notice a disconnect between manufacturers' plans and their actions despite the fact that they all understand its strategic impor- tance," said Broglia. "It is this topic of disconnect that we must address in order to improve productivity."
The Open IIoT group plans to work with the government and industry, including relevant associations like APPMA, to help Australian manu- facturers catch up to their counter- parts from around the world. It will offer a 'how to implement' guide with a focus on the practice, rather than the theory.
"Rather than tip-toeing around the subject, we make use of industry experts to address the crucial topics of 'real business value', security, data ownership and IT integration," the group says. "IIoT is discussed on the factory floor, but we see very little input and collaboration with the IT departments, which play a crucial role in its implementation."
According to Jozef Ceh, digital transformation leader at SMC, one key barrier to implementation of IIoT lies in the ability of manufacturers to connect tangible value to the investment – a barrier Open IIoT hopes to overcome.
"Even though the technology con- tinues to evolve at a rapid rate, prov- ing its significance in commercial applications, the conversation seems to be focused mostly around 'how does this technology relate to our manufacturing process and what would be the benefits'," said Ceh.
"Generally this seems to be ac- companied by the perception that 'smart manufacturing' is just more automation. The key to successful implementations of smart manufac- turing technology starts with a new mindset which is driven by clearly defined outcomes."
IIoT equipment makers need to pay attention to end-user demands, says Nick Psahoulias, industrial computing specialist at Beckhoff Automation. "Customers are looking for interoperability between ma- chines and transparency of informa- tion – from a sensor level, right across all machines in the network. The information needs to be useful and available to operators and man- agement," he said.
Open IIoT will have a stand (B237) at AUSPACK 2019 dedicated to demystifying Industry 4.0 and IIoT . ■
January-February 2019
Representatives from the companies partnering to form the IIoT Group (from left): Jozef Ceh (SMC); Richard Roberts (ZI-Argus); Jason Bouyer (Balluff); Martin Broglia (Nord Drivesystems); Jim Wallace (Balluff); and Nick Psahoulias (Beckhoff).