Page 42 - Packaging News Magazine May-June 2019
P. 42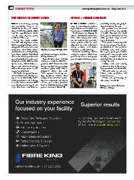 42
AUSPACK REVIEW
SMC FOCUSES ON ENERGY SAVING
RK ROSE + KRIEGER ADDS VALUE
www.packagingnews.com.au
May-June 2019
WITH the cost of energy soaring and availability likely to di- minish in the move to renew- ables, AUSPACK exhibitor SMC took the opportunity to show- case its range of power saving solutions at the expo.
Among the stand exhibits were the AR Regulator series, which saves up to 20 per cent in energy; AS-R Pressure Valve and A-SQ Valve Flow Valve, which cuts internal air consumption by up to 25 per cent; the VMG Blow Gun series, which provides a 20 per cent reduction in power con- sumption; and the ZK2 Vacuum Ejector series, which delivers a 90 per cent reduction in energy with a dual-stage ejector for in- creased vacuum flow.
Bill Blyth, energy saving spe- cialist at SMC said, "Compress- ing air is an inherently ineffi- cient operation – a lot of energy is created that is wasted. SMC is producing technology to ad- dress this issue, and deliever
Significant savings: Bill Blyth, SMC.
significant savings to manufac- turing businesses."
Tony Randall, head of OEM and key accounts for SMC Cor- poration ANZ Global Account Group, says that energy savings combines quick wins with a long-term vision. He said, "Your approach to energy sav- ings should be holistic. Real savings don't come from replac- ing one component, and based on this, you need a qualified team to walk this journey with you – from start to finish." ■
RK ROSE + KRIEGER exhibited a range of connecting and position- ing solutions on its stand near the entrance of AUSPACK 2019.
Technologies on display in- cluded aluminium extrusions; tubes and clamps; and actua- tors for both manual and auto- matic systems – but the main attraction was the automated lifting column, said James Boubouka, product manager.
"It shows our lifting columns acting in a sequence. That's been good for us – we've had people pass through, and when you see
something moving, it's going to attract attention," he said.
The position near the front doors meant there was plenty of traffic through the stand from guests interested in the entire product range, accord- ing to Boubouka.
"The show's been going well. People have stopped by and giv- en attention to our products, including some new people. We've got a great spot, and it's been good to have people come through, recognise our name and show interest in what we're selling," he said.
Adding value and solving problems is key to the compa- ny's operations, said Boubouka.
"We add value for our cus- tomers, solve problems, and make life easier.
"That's our philosophy: to add value," he said. ■
Adding value: James Boubouka, RK Rose + Krieger.