Page 6 - Packaging News Magazine May-June 2019
P. 6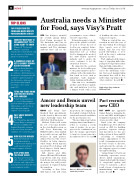 6
NEWS
www.packagingnews.com.au May-June 2019
TOP CLICKS
1INDUSTRY RESPONDS TO INFLAMMATORY "RECY- CLING SCAM" TV SHOW Channel 9 TV show 60 Minutes caused an
industry furore with what it said was an exposé of Australia's plastic recycling crisis.
2E-COMMERCE START-UP SET TO DISRUPT PERSON- ALISED PACKAGING
With an Australian-first end-to-end offering,
e-commerce drinks business Brewtopia's integrated model could be a gamechanger in the full-service delivery of personalised packaged beverages. (See story
3page 34.)
TETRA PAK TURNS DRINK CARTONS INTO DIGITAL DATA CARRIERS
Tetra Pak has launched
a connected packaging platform which it says will turn milk and juice cartons into a full-fledged information
4channel. (See story p8.) PACT GROUP RECRUITS
NEW CEO
Pact Group has appointed Sanjay Dayal as managing director and CEO, with
Raphael Geminder returning
to the role of non-executive chairman. (See story this page.)
5BUM DEAL FOR HUGGIES
Kimberly-Clark will close its Ingleburn plant in south-western Sydney and send manufacturing of
Huggies nappies offshore.
6VISY OPENS NEW 'RECYCLED' OFFICE
Visy has opened a new office in Essendon Fields, Victoria, with carpet tiles
derived from more than 50,000 recycled plastic bottles.
Australia needs a Minister for Food, says Visy's Pratt
TOP STORIES FROM THE PACKAGING NEWS WEBSITE PACKAGINGNEWS.COM.AU
OVER 500 delegates attended the seventh annual Global Food Forum presented by The Australian and Visy in Sydney, and heard packaging magnate and Visy chairman Anthony Pratt call for the
government to create a Minis- ter for Food portfolio.
If Australia wants to take its place at the global food table, we need to elevate the role of food in our country's future, Pratt said. He called for a new ministerial role at federal level to champion the needs of the $150 billion agri-food industry and to ensure the sector continues to get the attention it deserves.
He suggested the assistant minister for food could report to the prime minister and co- ordinate with other ministries that touch on food, such as agriculture, trade, manufac- turing, farming and health.
"Our aim is to sustainably produce and sell more quality, safe and nutritious food for a hungry world, with a goal
of doubling the value of Aus- tralia's food exports.
"When we started this con- versation in 2013 [the year of the first Global Food Forum] those exports were at $29 billion, and last year they passed $40 billion, so we're well on the way to achieving this goal," he said.
Pratt emphasised the impor- tance of exporting high value, packaged food products rather than just bulk commodities.
"Value-adding generates jobs across the Australian econo- my. Increased manufacturing investment here will be key, rather than exporting jobs to other countries," he said. ■
High value: Visy chairman Anthony Pratt.
Pact recruits new CEO
PACT GROUP has appointed Sanjay Dayal as managing di- rector and CEO, with Raphael Geminder returning to the role of non-executive chair.
Dayal joins the company from Bluescope Steel, where he served as CEO for building products, corporate strategy, and innovation; he has also held positions at Orica and ICI.
According to Geminder, Dayal's appointment is the result of a unanimous decision by Pact's board of directors, and represents the outcome of the company's quest to recruit the right leadership.
"Sanjay brings to Pact broad leadership experience across diverse global organisations. Sanjay understands the impact of exceptional quality and service to customers, a direct result of years of experience in manufacturing and supply chain," he said. ■
Amcor and Bemis unveil new leadership team
AMCOR and Bemis have finalised their appointments for the board of directors and senior leadership teams that will follow their big merger.
Michael Zacka will retain his role overseeing flexibles in the Asia-Pacific region, as will Peter Konieczny in EMEA flexibles, Jerzy Czubak in specialty cartons, and Eric Roegner in rigid plastics. Aluisio Fonseca will oversee flexibles in Latin America, while Bemis North America president Fred Stephan will head Amcor's North Ameri- can flexibles division.
Bill Austen and Mike Clauer, CEO and CFO at Bemis respectively, will step down from their positions following the merger, but will provide assistance if required during the transition.
According to Ron Delia, CEO Amcor, who will retain
his position, the company has thoroughly evaluated both in- ternal and external candidates for the post-merger roles.
"The most important task in bringing Amcor and Bemis to- gether is creating a strong team of leaders. As we pre- pare for the combination, we have the unique opportunity to turn two strong teams into the industry's best," he said. ■
Amcor's Michael Zacka will retain his position.