Page 77 - Print 21 Magazine March-April 2019
P. 77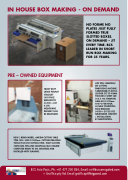 IN HOUSE BOX MAKING - ON DEMAND
NO FORME NO PLATES JUST FULLY FORMED TRUE SLOTTED BOXES. ON DEMAND – JIT EVERY TIME. BCS LEADER IN SHORT RUN BOX MAKING FOR 35 YEARS.
PRE – OWNED EQUIPMENT
BCS Asia Pacic, Ph: +61 477 200 854, Email: ns@bcscorrugated.com + Graffica pty ltd. Email grafficapl@bigpond.com
HEAVY DUTY LARGE FORMAT STACKLIFT
1650 PRICE REDUCED TO $4.500 + GST
X SITE. MELBOURNE DELIVERY CAN BE ARRANGED
HOT FOIL STAMPING/ DIE CUTTING EMBOSSING MACHINE. CARDBOARD, PLASTICS, LEATHER ETC TO 90MM THICKNESS SHEET SIZE 560 X 390 STAMPING AREA 450 X 290mm. 600 PC PER HOUR.
AS NEW CONDITION. PRICE REDUCED
$4500 + GST EX SITE MELBOURNE. DELIVERY / INSTALLATION
BY NEGOTIATION.
NEW / DEMO MODEL. AMEIDA CUTTING TABLE YOM 1018. 2500 X 1800mm. CUTTING/CREASING TOOLS PLUS KISS CUTTING TOOL. HIGH SUCTION STATIC BED, PEN AND SACRIFICIAL MAT. LOADED COMPUTER READY TO GO. DELIVERED AND INSTALLED WITH TRAINING.