Page 38 - foodservice magazine August 2019
P. 38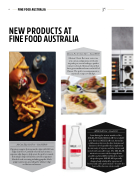 8
FINE FOOD AUSTRALIA
NEW PRODUCTS AT FINE FOOD AUSTRALIA
Mission Foods Classic Roti – Stand HE20
Mission Classic Roti now comes in a new carton configuration with only six packs per carton leading to quicker turnover of stock. Mission Classic Roti has a great traditional taste and is full of flavour. The perfect accompaniment to any meals, soups or with dips.
McCain Edge Cut Fries – Stand HP58
Operators can give their menu the edge with McCain Edge Cut Fries. Carefully selected and cut into a superior edge shape to help create the perfect crunch, this unique chip is delicately coated in a signature blend of craft seasoning including paprika, black pepper and onion, providing the ultimate edge
on flavour and texture.
MILKLAB Oat – Stand E32
Introducing the newest member of the MILKLAB family MILKLAB Oat available later this year. MILKLAB is an Australian collaboration between foodies, baristas and farmers to develop milks that complement the intensity of espresso and also texture and stretch with any coffee type. The MILKLAB mission is to source the best ingredients possible and trial different blends to ensure the perfect pour. MILKLAB is proudly designed and validated by experienced baristas and coffee professionals – because the best coffee deserves a better milk.