Page 3 - National Police Peer Intervention Conference Brochure
P. 3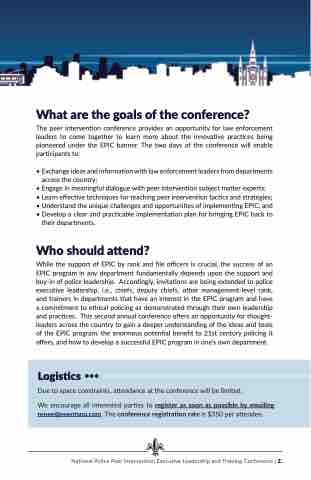 What are the goals of the conference?
The peer intervention conference provides an opportunity for law enforcement leaders to come together to learn more about the innovative practices being pioneered under the EPIC banner. The two days of the conference will enable participants to:
• Exchange ideas and information with law enforcement leaders from departments across the country;
• Engage in meaningful dialogue with peer intervention subject matter experts;
• Learn effective techniques for teaching peer intervention tactics and strategies;
• Understand the unique challenges and opportunities of implementing EPIC; and
• Develop a clear and practicable implementation plan for bringing EPIC back to
their departments.
Who should attend?
While the support of EPIC by rank and file officers is crucial, the success of an EPIC program in any department fundamentally depends upon the support and buy-in of police leadership. Accordingly, invitations are being extended to police executive leadership, i.e., chiefs, deputy chiefs, other management-level rank, and trainers in departments that have an interest in the EPIC program and have a commitment to ethical policing as demonstrated through their own leadership and practices. This second annual conference offers an opportunity for thought- leaders across the country to gain a deeper understanding of the ideas and tools of the EPIC program, the enormous potential benefit to 21st century policing it offers, and how to develop a successful EPIC program in one's own department.
    National Police Peer Intervention Executive Leadership and Training Conference | 2.
Logistics
Due to space constraints, attendance at the conference will be limited.
We encourage all interested parties to register as soon as possible by emailing renee@eventsno.com. The conference registration rate is $350 per attendee.