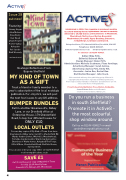 ACTIVE8 8 Active
Established in 2002, this magazine is produced monthly by award-winning Heron Publications Ltd and is carefully delivered to 15,500 homes and businesses in Woodseats, Meersbrook, Norton Lees, Norton, Beauchief, Meadowhead, Greenhill, Upper Bradway, Batemoor, Jordanthorpe, Lowedges and beyond.
Enterprise House, 179 Chesterfield Road, Dronfield, S18 2XE. Telephone: 01246 416027. www.heronpublications.co.uk info@heronpublications.co.uk
To advertise call 01246 416027.
Editor: Mike Firth.
Editorial: Deborah Wain.
Design Manager: Helen Firth. Administration: Michelle Cashmore, Fiona Armitage. Advertising Manager: Sarah Ashley. Advertising: Ayshea Pirie, Emily Hill. Accounts: Janice Gee, Rachel Gee. Distribution Manager: John Slack.
Not connected with any other publishing group. Material is copyright and should not be reproduced without permission. Views expressed by individual contributors and advertisers are not necessarily those of the publishers.
Proud to be printed by Buxton Press, Buxton, Derbyshire.
Cover Picture: Butterscotch Brownie creation served at Spoon, Abbey Lane.
Issue 29 out now!
Featuring:
Jimmy Hagan John Motson Dave Berry Ken Wood Chuck Fowler Porter Valley Ashopton Art Jacobs Rudi Wessely
..and much more!
Nostalgic Reflections From Bygone Sheffield
MY KIND OF TOWN AS A GIFT
Treat a friend or family member to a year's subscription of the local nostalgia publication. For only £22, we will post
the next four issues to any UK address.
BUMPER BUNDLES
Call in at either Greenwood's, Abbey Lane, or our Dronfield office at Enterprise House, 179 Chesterfield Road, to buy four different issues for
ONLY £10.
LOCAL OUTLETS
You can buy copies of My Kind of Town from here: Greenwoods, Abbey Lane; Garrett's, Chesterfield Rd; Wards Garden Centre, Mitchell's, Meadowhead; Ferndale Garden Centre; Wards Garden Centre; Branches of Waterstones, Ashgate@The Forge; Gifts & More, Chesterfield Road; Sheffield Scene, Surrey Street.
You can also order your copy either on 01246 416027 or at heronpublications.co.uk
Do you run a business in south Sheffield? Promote it in Active8 - the most colourful shop window around.
Call us on 01246 416027 or email sarah@heronpublications.co.uk
Heron Publications
4
SAVE £1
Call in and buy your copy of My Kind of Town for only £3.99 directly from Greenwood's, Abbey Lane, Woodseats.