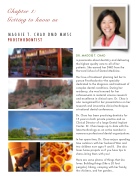 Chapter 1:
Getting to know us
MAGGIE T. CHAO DMD MMSC
PROSTHODONTIST
DR. MAGGIE T. CHAO
is passionate about dentistry and delivering the highest quality care to all of her patients. She earned her DMD from the Harvard School of Dental Medicine.
Her love of treatment planning led her to pursue Prosthodontics—the specialty dedicated to the diagnosis and treatment of complex dental conditions. During her residency, she was honored for her achievements in material science research and excellence in clinical care. Dr. Chao is also recognized for her presentations on her research and innovative clinical techniques at national dental conferences.
Dr. Chao has been practicing dentistry for 15 years in both private practice and as Clinical Director of a large Dental Implant Center. Dr. Chao keeps up to date with the latest technology as an active member in numerous professional dental organizations.
In her spare time, Dr. Chao enjoys spending time outdoors with her husband Wan and two children now ages 9 and 8. She also loves home projects so if you have tips to share—bring them with you!
Here are some photos of things that she loves: Building things (like a 20 foot pergola), hiking, camping with her family, the chickens, and her garden...