Page 30 - Sonoma County Gazette June 2019
P. 30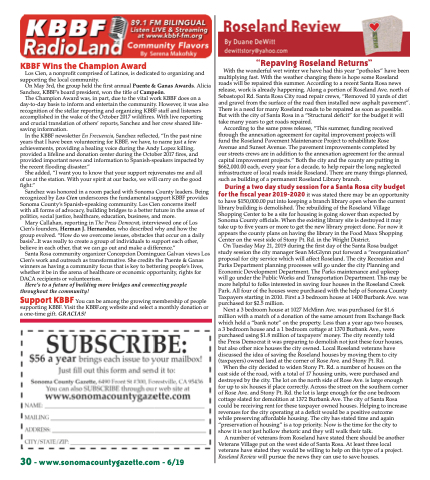 KBBF Wins the Champion Award
"Repaving Roseland Returns"
Los Cien, a nonprofit comprised of Latinos, is dedicated to organizing and supporting the local community.
With the wonderful wet winter we have had this year "potholes" have been multiplying fast. With the weather changing there is hope some Roseland roads will be repaired this summer. According to a recent Santa Rosa news release, work is already happening. Along a portion of Roseland Ave. north of Sebastopol Rd. Santa Rosa City road repair crews, "Removed 10 yards of dirt and gravel from the surface of the road then installed new asphalt pavement". There is a need for many Roseland roads to be repaired as soon as possible. But with the city of Santa Rosa in a "Structural deficit" for the budget it will take many years to get roads repaired.
During a two day study session for a Santa Rosa city budget
On May 3rd, the group held the first annual Puente & Ganas Awards. Alicia Sanchez, KBBF's board president, won the title of Campeón.
The Champion Award was, in part, due to the vital work KBBF does on a day-to-day basis to inform and entertain the community. However, it was also recognition of the stellar reporting and organizing KBBF staff and listeners accomplished in the wake of the October 2017 wildfires. With live reporting and crucial translation of others' reports, Sanchez and her crew shared life- saving information.
According to the same press release, "This summer, funding received through the annexation agreement for capital improvement projects will fund the Roseland Pavement Maintenance Project to rehabilitate Rose Avenue and Sunset Avenue. The pavement improvements completed by
our streets crews are in addition to the annexation agreement for the annual capital improvement projects." Both the city and the county are putting in $662,000.00 each, every year for a decade, to help repair the long neglected infrastructure of local roads inside Roseland. There are many things planned, such as building of a permanent Roseland Library branch.
In the KBBF newsletter En Frecuencia, Sanchez reflected, "In the past nine years that I have been volunteering for KBBF, we have, to name just a few achievements, providing a healing voice during the Andy Lopez killing, provided a lifeline and donation center during the October 2017 fires, and provided important news and information to Spanish-speakers impacted by the recent flooding disaster."
She added, "I want you to know that your support rejuvenates me and all of us at the station. With your spirit at our backs, we will carry on the good fight."
Sanchez was honored in a room packed with Sonoma County leaders. Being recognized by Los Cien underscores the fundamental support KBBF provides Sonoma County's Spanish-speaking community. Los Cien concerns itself
with all forms of advocacy, building bridges to a better future in the areas of politics, social justice, healthcare, education, business, and more.
for the fiscal year 2019-2020 it was stated there may be an opportunity to have $150,000.00 put into keeping a branch library open when the current library building is demolished. The rebuilding of the Roseland Village Shopping Center to be a site for housing is going slower than expected by Sonoma County officials. When the existing library site is destroyed it may take up to five years or more to get the new library project done. For now it appears the county plans on having the library in the Food Maxx Shopping Center on the west side of Stony Pt. Rd. in the Wright District.
Mary Callahan, reporting in The Press Democrat, interviewed one of Los Cien's founders, Herman J. Hernandez, who described why and how the group evolved. "How do we overcome issues, obstacles that occur on a daily basis?...It was really to create a group of individuals to support each other, believe in each other, that we can go out and make a difference."
On Tuesday May 21, 2019 during the first day of the Santa Rosa budget study session the city manager Sean McGlynn put forward a "reorganization" proposal for city service which will affect Roseland. The city Recreation and Parks Department planning processes will go under the city Planning and Economic Development Department. The Parks maintenance and upkeep will go under the Public Works and Transportation Department. This may be more helpful to folks interested in saving four houses in the Roseland Creek Park. All four of the houses were purchased with the help of Sonoma County Taxpayers starting in 2010. First a 3 bedroom house at 1400 Burbank Ave. was purchased for $2.5 million.
Santa Rosa community organizer Concepcion Dominguez Galvan views Los Cien's work and outreach as transformative. She credits the Puente & Ganas winners as having a community focus that is key to bettering people's lives, whether it be in the arena of healthcare or economic opportunity, rights for DACA recipients or volunteerism.
Here's to a future of building more bridges and connecting people throughout the community!
Support KBBF You can be among the growing membership of people supporting KBBF. Visit the KBBF.org website and select a monthly donation or a one-time gift. GRACIAS!
30 - www.sonomacountygazette.com - 6/19
Next a 3 bedroom house at 1027 McMinn Ave. was purchased for $1.6 million with a match of a donation of the same amount from Exchange Back which held a "bank note" on the property. Less than a year ago two houses, a 3 bedroom house and a 1 bedroom cottage at 1370 Burbank Ave., were purchased using $1.8 million of taxpayers' money. The city recently told
the Press Democrat it was preparing to demolish not just these four houses, but also other nice houses the city owned. Local Roseland veterans have discussed the idea of saving the Roseland houses by moving them to city (taxpayers) owned land at the corner of Rose Ave. and Stony Pt. Rd.
   When the city decided to widen Stony Pt. Rd. a number of houses on the east side of the road, with a total of 17 housing units, were purchased and destroyed by the city. The lot on the north side of Rose Ave. is large enough for up to six houses if place correctly. Across the street on the southern corner of Rose Ave. and Stony Pt. Rd. the lot is large enough for the one bedroom cottage slated for demolition at 1372 Burbank Ave. The city of Santa Rosa could be receiving rent for these taxpayer owned houses. Helping to increase revenues for the city operating at a deficit would be a positive outcome
while preserving affordable housing. The city has stated time and again "preservation of housing" is a top priority. Now is the time for the city to show it is not just hollow rhetoric and they will walk their talk.
A number of veterans from Roseland have stated there should be another Veterans Village put on the west side of Santa Rosa. At least three local veterans have stated they would be willing to help on this type of a project. Roseland Review will pursue the news they can use to save houses.