Page 104 - The Guidebook of Cape Cod - June 2019
P. 104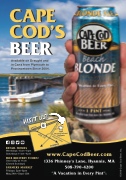 CAPE
 COD'S
BEER
Available on Draught and in Cans from Plymouth to Provincetown Since 2004.
        RETAIL HOURS
Weekdays: 10am–6pm Saturdays: 11am–4pm
www.CapeCodBeer.com
1336 Phinney's Lane, Hyannis, MA 508-790-4200
"A Vacation in Every Pint"TM
 FREE BREWERY TOURS!
Once daily at 11am (Closed Sundays)
FARMERS MARKET
Fridays: 3pm-6pm
May 24th–Sept 13th
104 • June 2019 The Guidebook of Cape Cod
VISIT US!
VISIT US!
6
EXIT 6
1336 Phinney's Lane Hyannis
Phinney's Lane
RTE.132
Attuck's Lane
HYANNIS
TO
© 2019 Cape Cod Beer, Inc.