Page 32 - NMHBASummer2019
P. 32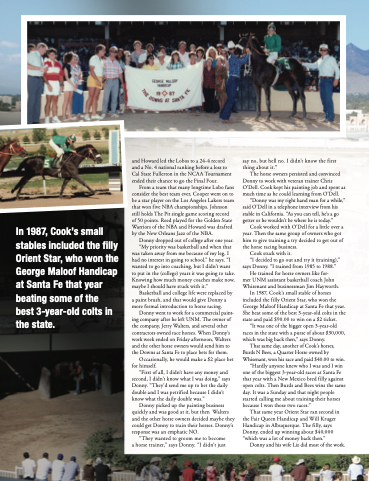 In 1987, Cook's small stables included the filly Orient Star, who won the George Maloof Handicap at Santa Fe that year beating some of the best 3-year-old colts in the state.
and Howard led the Lobos to a 24-4 record and a No. 4 national ranking before a loss to Cal State Fullerton in the NCAA Tournament ended their chance to go the Final Four.
From a team that many longtime Lobo fans consider the best team ever, Cooper went on to be a star player on the Los Angeles Lakers team that won five NBA championships. Johnson still holds The Pit single game scoring record of 50 points. Reed played for the Golden State Warriors of the NBA and Howard was drafted by the New Orleans Jazz of the NBA.
Donny dropped out of college after one year.
"My priority was basketball and when that was taken away from me because of my leg, I had no interest in going to school," he says. "I wanted to go into coaching, but I didn't want to put in the (college) years it was going to take. Knowing how much money coaches make now, maybe I should have stuck with it."
Basketball and college life were replaced by a paint brush, and that would give Donny a more formal introduction to horse racing.
Donny went to work for a commercial paint- ing company after he left UNM. The owner of the company, Jerry Walters, and several other contractors owned race horses. When Donny's work week ended on Friday afternoon, Walters and the other horse owners would send him to the Downs at Santa Fe to place bets for them.
Occasionally, he would make a $2 place bet for himself.
"First of all, I didn't have any money and second, I didn't know what I was doing," says Donny. "They'd send me up to bet the daily double and I was petrified because I didn't know what the daily double was."
Donny picked up the painting business quickly and was good at it, but then Walters and the other horse owners decided maybe they could get Donny to train their horses. Donny's response was an emphatic NO.
"They wanted to groom me to become a horse trainer," says Donny. "I didn't just
say no, but hell no. I didn't know the first thing about it."
The horse owners persisted and convinced Donny to work with veteran trainer Chris O'Dell. Cook kept his painting job and spent as much time as he could learning from O'Dell.
"Donny was my right hand man for a while," said O'Dell in a telephone interview from his stable in California. "As you can tell, he's a go getter or he wouldn't be where he is today."
Cook worked with O'Dell for a little over a year. Then the same group of owners who got him to give training a try decided to get out of the horse racing business.
Cook stuck with it.
"I decided to go out and try it (training)," says Donny. "I trained from 1985 to 1988."
He trained for horse owners like for-
mer UNM assistant basketball coach John Whisenant and businessman Jim Hayworth.
In 1987, Cook's small stable of horses included the filly Orient Star, who won the George Maloof Handicap at Santa Fe that year. She beat some of the best 3-year-old colts in the state and paid $90.00 to win on a $2 ticket.
"It was one of the bigger open 3-year-old races in the state with a purse of about $30,000, which was big back then," says Donny.
That same day, another of Cook's horses, Burds N Bees, a Quarter Horse owned by Whisenant, won his race and paid $40.00 to win.
"Hardly anyone knew who I was and I win one of the biggest 3-year-old races at Santa Fe that year with a New Mexico bred filly against open colts. Then Burds and Bees wins the same day. It was a Sunday and that night people started calling me about training their horses because I won those two races."
That same year Orient Star ran second in the Fair Queen Handicap and Will Kruger Handicap in Albuquerque. The filly, says Donny, ended up winning about $40,000 "which was a lot of money back then."
Donny and his wife Liz did most of the work.