Page 34 - NMHBASummer2019
P. 34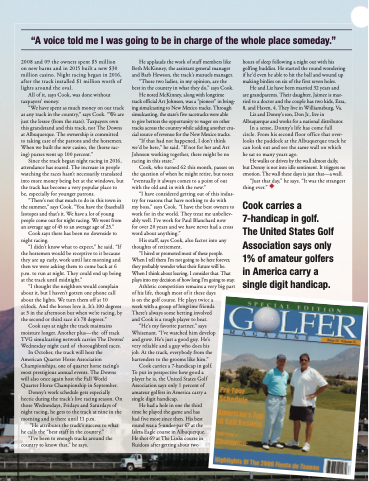 "A voice told me I was going to be in charge of the whole place someday."
 2008 and 09 the owners spent $5 million on new barns and in 2015 built a new $30 million casino. Night racing began in 2016, after the track installed $1 million worth of lights around the oval.
All of it, says Cook, was done without taxpayers' money.
"We have spent as much money on our track as any track in the country," says Cook. "We are just the lessee (from the state). Taxpayers own this grandstand and this track, not The Downs at Albuquerque. The ownership is committed to taking care of the patrons and the horsemen. When we built the new casino, the (horse rac- ing) purses went up 100 percent."
Since the track began night racing in 2016, attendance has soared. The increase in people watching the races hasn't necessarily translated into more money being bet at the windows, but the track has become a very popular place to be, especially for younger patrons.
"There's not that much to do in this town in the summer," says Cook. "You have the (baseball) Isotopes and that's it. We have a lot of young people come out for night racing. We went from an average age of 45 to an average age of 25."
Cook says there has been no downside to night racing.
"I didn't know what to expect," he said. "If the horsemen would be receptive to it because they are up early, work until late morning and then we were asking them to come back at 6 p.m. to run at night. They could end up being at the track until midnight."
"I thought the neighbors would complain about it, but I haven't gotten one phone call about the lights. We turn them off at 10 o'clock. And the horses love it. It's 100 degrees at 3 in the afternoon but when we're racing, by the second or third race it's 78 degrees."
Cook says at night the track maintains moisture longer. Another plus—the off track TVG simulcasting network carries The Downs' Wednesday night card of thoroughbred races.
In October, the track will host the American Quarter Horse Association Championships, one of quarter horse racing's most prestigious annual events. The Downs will also once again host the Fall World Quarter Horse Championship in September.
Donny's work schedule gets especially hectic during the track's live racing season. On those Wednesdays, Fridays and Saturdays of night racing, he gets to the track at nine in the morning and is there until 11 p.m.
"He attributes the track's success to what he calls the "best staff in the country."
"I've been to enough tracks around the country to know that," he says.
He applauds the work of staff members like Beth McKinney, the assistant general manager and Barb Hewson, the track's mutuels manager.
"Those two ladies, in my opinion, are the best in the country in what they do," says Cook. He noted McKinney, along with longtime
track official Art Johnson, was a "pioneer" in bring- ing simulcasting to New Mexico tracks. Through simulcasting, the state's five racetracks were able
to give bettors the opportunity to wager on other tracks across the country while adding another cru- cial source of revenue for the New Mexico tracks.
"If that had not happened, I don't think we'd be here," he said. "If not for her and Art Johnson working together, there might be no racing in this state."
Cook, who turned 62 this month, passes on the question of when he might retire, but notes "eventually it always comes to a point of out with the old and in with the new."
"I have considered getting out of this indus- try for reasons that have nothing to do with my boss," says Cook. "I have the best owners to work for in the world. They treat me unbeliev- ably well. I've work for Paul Blanchard now
for over 20 years and we have never had a cross word about anything."
His staff, says Cook, also factor into any thoughts of retirement.
"I hired or promoted most of these people. When I tell them I'm not going to be here forever, they probably wonder what their future will be. When I think about leaving, I consider that. That plays into my decision of how long I'm going to stay.
Athletic competition remains a very big part of his life, though most of it these days
is on the golf course. He plays twice a
week with a group of longtime friends.
There's always some betting involved
and Cook is a tough player to beat.
"He's my favorite partner," says Whisenant. "I've watched him develop and grow. He's just a good guy. He's very reliable and a guy who does his job. At the track, everybody from the bartenders to the grooms like him."
Cook carries a 7-handicap in golf. To put in perspective how good a player he is, the United States Golf Association says only 1 percent of amateur golfers in America carry a single digit handicap.
He had a hole in one the third time he played the game and has had five more since then. His best round was a 5-under-par 67 at the Isleta Eagle course in Albuquerque. He shot 69 at The Links course in Ruidoso after getting about two
hours of sleep following a night out with his golfing buddies. He started the round wondering if he'd even be able to hit the ball and wound up making birdies on six of the first seven holes.
He and Liz have been married 32 years and are grandparents. Their daughter, Jaimee is mar- ried to a doctor and the couple has two kids, Ezra, 8, and Haven, 4. They live in Williamsburg, Va.
Liz and Donny's son, Don Jr., live in Albuquerque and works for a national distributor.
In a sense, Donny's life has come full circle. From his second floor office that over- looks the paddock at the Albuquerque track he can look out and see the same wall on which he sat so many years ago.
He walks or drives by the wall almost daily, but Donny is not into idle sentiment. It triggers no emotion. The wall these days is just that—a wall.
"Just that day," he says. "It was the strangest thing ever."
Cook carries a 7-handicap in golf. The United States Golf Association says only 1% of amateur golfers in America carry a single digit handicap.