Page 37 - AreaNewsletters "May 2020" issue
P. 37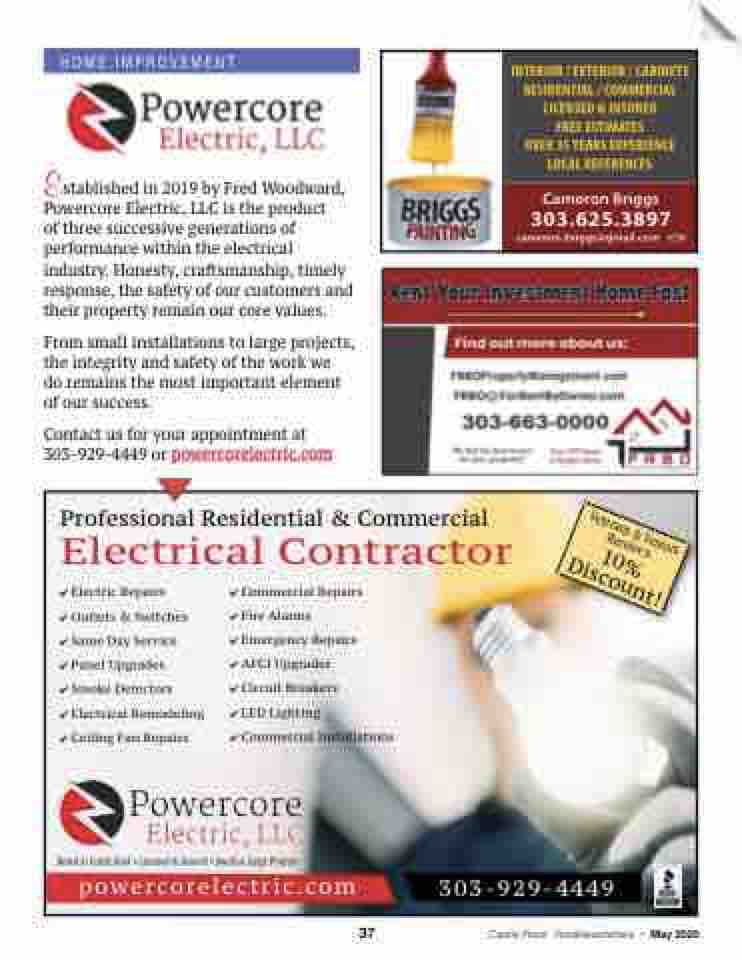 INTERIOR / EXTERIOR / CABINETS
Briggs Painting
RESIDENTIAL / COMMERCIAL LICENSED & INSURED FREE ESTIMATES
OVER 35 YEARS EXPERIENCE LOCAL REFERENCES
Cameron Briggs
303.625.3897
cameron.briggs@gmail.com
H O ME I MP R O V E ME N T
Established in 2019 by Fred Woodward, Powercore Electric, LLC is the product
of three successive generations of performance within the electrical industry. Honesty, craftsmanship, timely response, the safety of our customers and their property remain our core values.
From small installations to large projects, the integrity and safety of the work we
do remains the most important element of our success.
Contact us for your appointment at 303-929-4449 or powercorelectric.com
For Rent By Owner FRBO Investment Home Property Management Dave Watts
Professional Residential & Commercial
Electrical Contractor
4 Electric Repairs
4 Outlets & Switches
4 Same Day Service
4 Panel Upgrades
4 Smoke Detectors
4 Electrical Remodeling 4 Ceiling Fan Repairs
4 Commercial Repairs 4 Fire Alarms
4 Emergency Repairs 4 AFCI Upgrades
4 Circuit Breakers
4 LED Lighting
4 Commercial Installations
Based in Castle Rock • Licensed & Insured • Small or Large Projects
powercorelectric.com
303-929-4449
37 Castle Rock "AreaNewsletters • May 2020
Veterans & Seniors Receive a
10% Discount!