Page 38 - AreaNewsletters "May 2020" issue
P. 38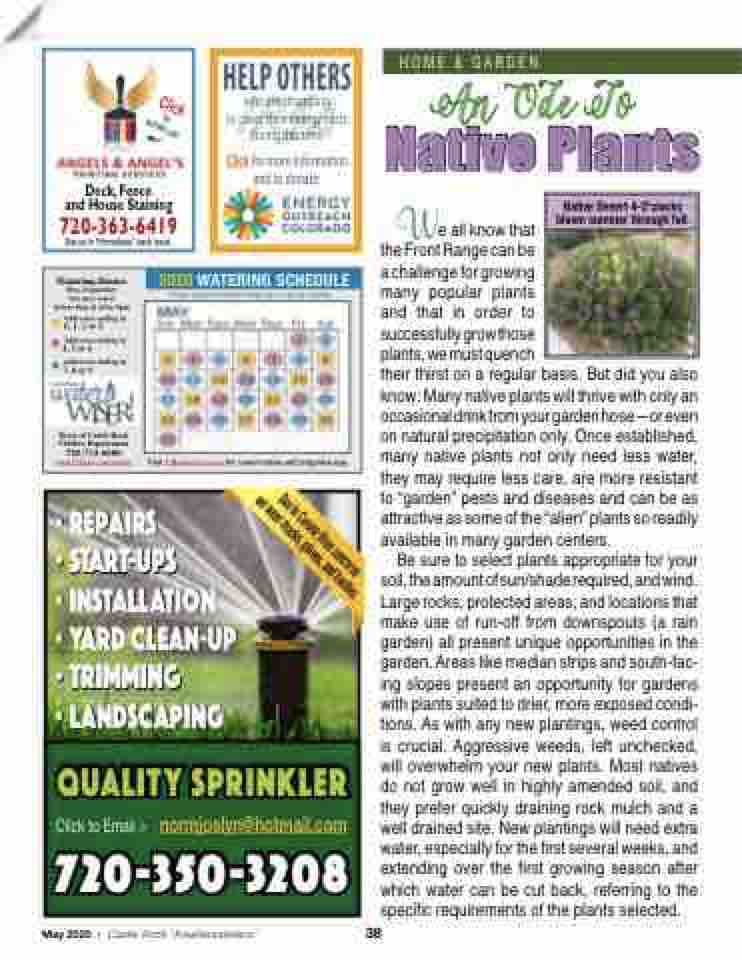 Angels
Deck, Fence and House Staining
720-363-6419
See us in "Homebase" each issue.
HELP OTHERS
who are struggling
to cover their energy costs during this time.
Click for more information and to donate:
An Ode To
Native Plants
Native Desert 4-O'clocks bloom summer through fall.
We all know that
the Front Range can be
a challenge for growing
many popular plants
and that in order to
successfully grow those
plants, we must quench
their thirst on a regular basis. But did you also know: Many native plants will thrive with only an occasional drink from your garden hose—or even on natural precipitation only. Once established, many native plants not only need less water, they may require less care, are more resistant to "garden" pests and diseases and can be as attractive as some of the "alien" plants so readily available in many garden centers.
Be sure to select plants appropriate for your soil, the amount of sun/shade required, and wind. Large rocks, protected areas, and locations that make use of run-off from downspouts (a rain garden) all present unique opportunities in the garden. Areas like median strips and south-fac- ing slopes present an opportunity for gardens with plants suited to drier, more exposed condi- tions. As with any new plantings, weed control is crucial. Aggressive weeds, left unchecked, will overwhelm your new plants. Most natives do not grow well in highly amended soil, and they prefer quickly draining rock mulch and a well drained site. New plantings will need extra water, especially for the  rst several weeks, and extending over the  rst growing season after which water can be cut back, referring to the speci c requirements of the plants selected.
Watering Hours: May–September You may water before 8am & after 8pm
n Addresses ending in 0, 1, 2 or 3
l Addresses ending in 4, 5 or 6
u Addresses ending in 7, 8 or 9
Town of Castle Rock Utilities Department 720-733-6000 www.CRgov.com/water
Certain streets in Founders Village have a special schedule.
Visit CRconserve.com for conservation and irrigation tips.
2020 WATERING SCHEDULE
• repairs
• START-UPS
• INSTALLATION •YARDCLEAN-UP • TRIMMING
• LANDSCAPING
QUALITY SPRINKLER
Click to Email > normjoslyn@hotmail.com 720-350-3208
May 2020 • Castle Rock "AreaNewsletters" 38
H O ME & G A R D E N
Click
to email us!
Due to Corona Virus concerns we wear masks, gloves, and booties.