Page 40 - AreaNewsletters "May 2020" issue
P. 40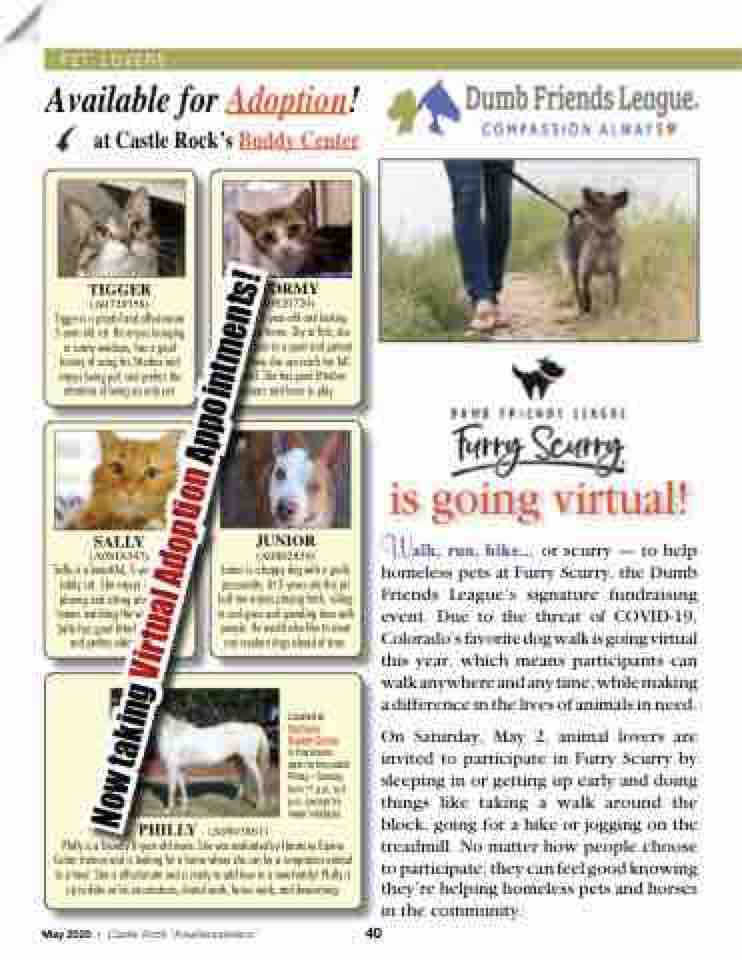 Available for Adoption! at Castle Rock's Buddy Center
TIGGER
(A0729358)
Tigger is a playful and affectionate 5-year-old cat. He enjoys lounging in sunny windows, has a good history of using his litterbox and enjoys being pet, and prefers the attention of being an only pet.
STORMY
(A0820720)
Stormy is 1-year-old and looking for her new home. Shy at  rst, she would do best in a quiet and patient home where she can reach her full potential. She has good litterbox manners and loves to play.
SALLY
(A0816347)
Sally is a beautiful, 5-year-old red tabby cat. She enjoys affection, playing and sitting atop tall cat towers watching the world go by. Sally has good litterbox manners and prefers older children.
JUNIOR
(A0802859)
Junior is a happy dog with a goofy
personality. At 3-years-old this pit bull mix enjoys playing fetch, rolling in cool grass and spending time with people. He would also like to meet any resident dogs ahead of time.
is going virtual!
Walk, run, hike... or scurry — to help homeless pets at Furry Scurry, the Dumb Friends League's signature fundraising event. Due to the threat of COVID-19, Colorado's favorite dog walk is going virtual this year, which means participants can walk anywhere and any time, while making a difference in the lives of animals in need.
On Saturday, May 2, animal lovers are invited to participate in Furry Scurry by sleeping in or getting up early and doing things like taking a walk around the block, going for a hike or jogging on the treadmill. No matter how people choose to participate, they can feel good knowing they're helping homeless pets and horses in the community.
Located at
Harmony
Equine Center
in Franktown, open to the public Friday – Sunday from 11 a.m. to 3 p.m. (except for major holidays).
PHILLY (A0803861)
Philly is a friendly 8-year-old mare. She was evaluated by Harmony Equine Center trainers and is looking for a home where she can be a companion animal to a herd. She is affectionate and is ready to add love to a new family! Philly is up to date on his vaccinations, dental work, farrier work, and deworming.
May 2020 • Castle Rock "AreaNewsletters" 40
P E T L OV E R S
Now taking Virtual Adoption Appointments!