Page 41 - AreaNewsletters "May 2020" issue
P. 41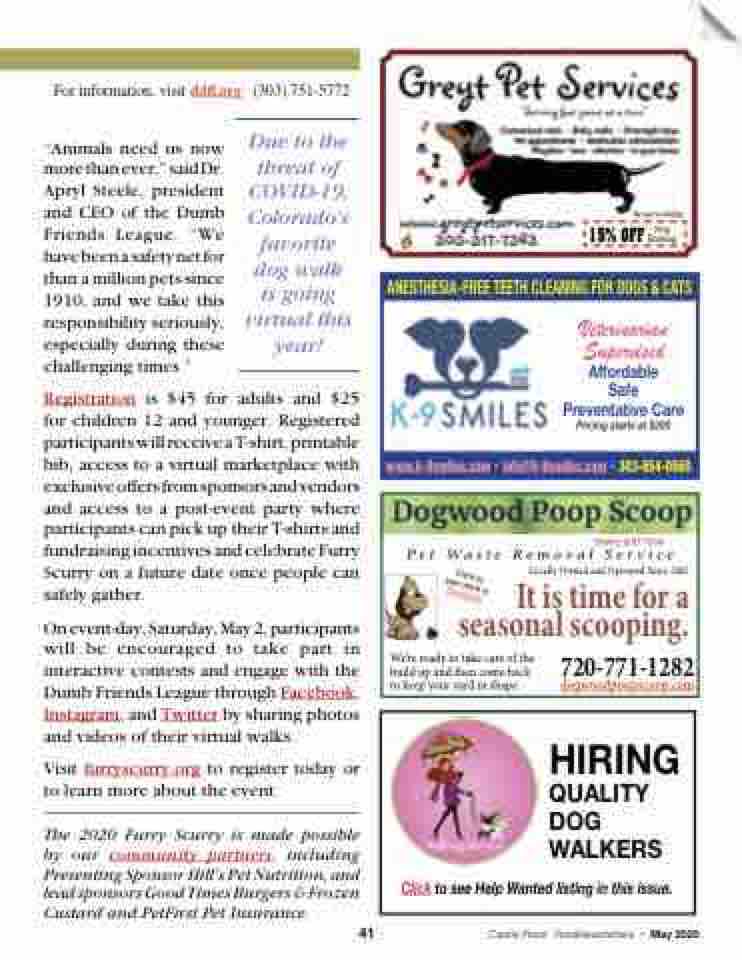 First 15% OFF Booking
ANESTHESIA-FREE TEETH CLEANING FOR DOGS & CATS
Veterinarian Supervised A ordable
Safe
Preventative Care
Pricing starts at $200
www.k-9smiles.com • info@k-9smiles.com • 303-654-0560
Pet Waste Removal Service
It is time for a seasonal scooping.
Starting at $7.75/wk
Locally Owned and Operated Since 2005
We're ready to take care of the build up and then come back to keep your yard in shape.
720-771-1282
dogwoodpoopscoop.com
Click to see Help Wanted listing in this issue.
HIRING QUALITY DOG WALKERS
For information, visit dd .org (303) 751-5772
"Animals need us now more than ever," said Dr. Apryl Steele, president and CEO of the Dumb Friends League. "We have been a safety net for than a million pets since 1910, and we take this responsibility seriously, especially during these challenging times."
Due to the threat of COVID-19, Colorado's favorite dog walk is going virtual this year!
Not valid on Holidays
Registration is $45 for adults and $25 for children 12 and younger. Registered participants will receive a T-shirt, printable bib, access to a virtual marketplace with exclusive offers from sponsors and vendors and access to a post-event party where participants can pick up their T-shirts and fundraising incentives and celebrate Furry Scurry on a future date once people can safely gather.
On event-day, Saturday, May 2, participants will be encouraged to take part in interactive contests and engage with the Dumb Friends League through Facebook, Instagram, and Twitter by sharing photos and videos of their virtual walks.
Visit furryscurry.org to register today or to learn more about the event.
The 2020 Furry Scurry is made possible by our community partners, including Presenting Sponsor Hill's Pet Nutrition, and lead sponsors Good Times Burgers & Frozen Custard and PetFirst Pet Insurance.
41 Castle Rock "AreaNewsletters • May 2020
Click to see more in Spotlight!