Page 25 - AreaNewsletters "May 2021" issue
P. 25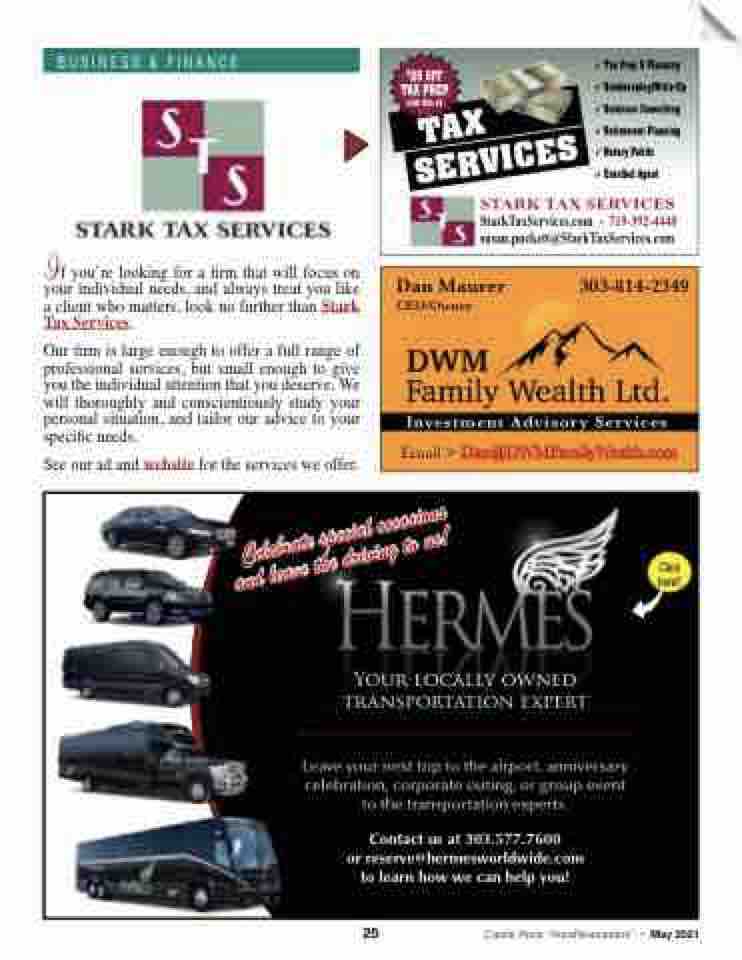 $25 OFF
TAX PREP with this ad
4 Tax Prep & Planning 4 Bookkeeping/Write-Up 4 Business Consulting 4 Retirement Planning 4 Notary Public
4 Enrolled Agent
STARK TAX SERVICES
Stark Tax Services Prep Planning Bookkeeping
StarkTaxServices.com • 719-392-4440 Consulting Retirement Notary
susan.puckett@StarkTaxServices.com
B US I NE S S & F I NA NCE
If you're looking for a  rm that will focus on your individual needs, and always treat you like a client who matters, look no further than Stark Tax Services.
Our  rm is large enough to offer a full range of professional services, but small enough to give you the individual attention that you deserve. We will thoroughly and conscientiously study your personal situation, and tailor our advice to your speci c needs.
See our ad and website for the services we offer.
Dan Maurer 303-814-2349 CEO/Owner
Investment Advisory Services
Investment Advisory Services o ered through DWM Family Wealth Ltd.
Email > Dan@DWMFamilyWealth.com
Click here!!
Your locally owned transportation expert
Leave your next trip to the airport, anniversary celebration, corporate outing, or group event to the transportation experts.
Contact us at 303.577.7600
or reserve@hermesworldwide.com to learn how we can help you!
25 Castle Rock "AreaNewsletters" • May 2021
TAX
SERVICES
Celebrate special occasions and leave the driving to us!