Page 42 - AreaNewsletters "Nov 2020" issue
P. 42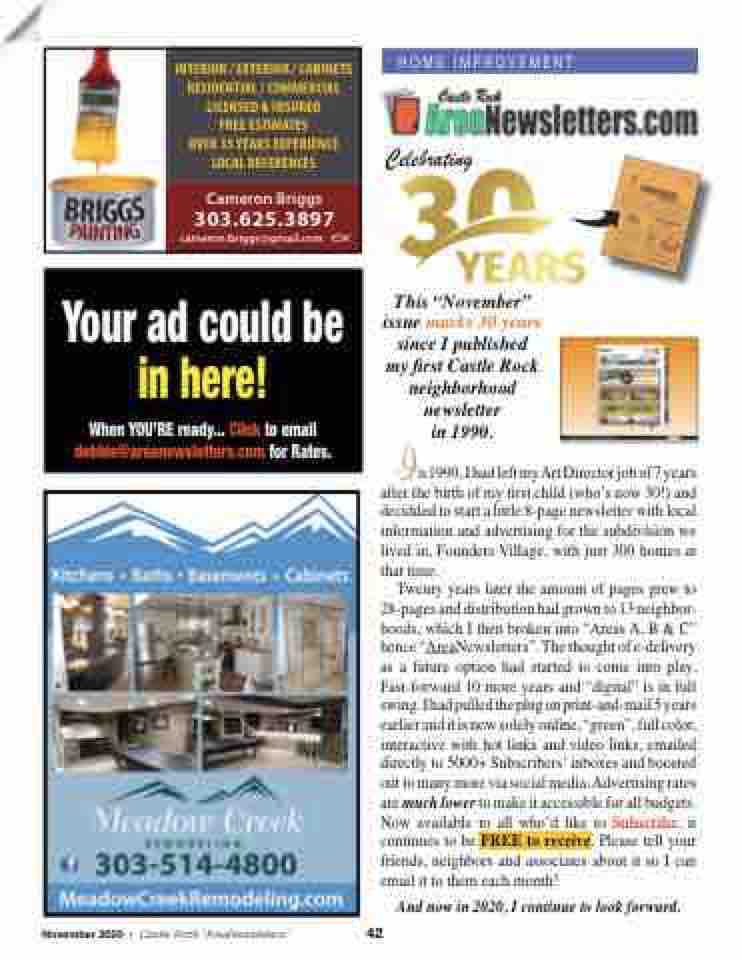 INTERIOR / EXTERIOR / CABINETS
Briggs Painting
RESIDENTIAL / COMMERCIAL LICENSED & INSURED FREE ESTIMATES
OVER 35 YEARS EXPERIENCE LOCAL REFERENCES
Cameron Briggs
303.625.3897
cameron.briggs@gmail.com
H O ME I MP R O V E ME N T
Celebrating
Your ad could be
in here!
When YOU'RE ready... Click to email debbie@areanewsletters.com for Rates.
This "November" issue marks 30 years since I published my  rst Castle Rock neighborhood newsletter
I in 1990.
n 1990, I had left my Art Director job of 7 years after the birth of my  rst child (who's now 30!) and decidded to start a little 8-page newsletter with local information and advertising for the subdivision we lived in, Founders Village, with just 300 homes at that time.
Meadow Creek Remodeling Construction Contractor Kitch- ens Baths Basements Cabinets
Twenty years later the amount of pages grew to 28-pages and distribution had grown to 13 neighbor- hoods, which I then broken into "Areas A, B & C" hence "AreaNewsletters". The thought of e-delivery as a future option had started to come into play. Fast-forward 10 more years and "digital" is in full swing. I had pulled the plug on print-and-mail 5 years earlier and it is now solely online, "green", full color, interactive with hot links and video links, emailed directly to 5000+ Subscribers' inboxes and boosted out to many more via social media. Advertising rates are much lower to make it accessible for all budgets. Now available to all who'd like to Subscribe, it continues to be FREE to receive. Please tell your friends, neighbors and associates about it so I can email it to them each month!
November 2020 • Castle Rock "AreaNewsletters" 42
And now in 2020, I continue to look forward.