Page 4 - AreaNewsletters "Nov'18" issue
P. 4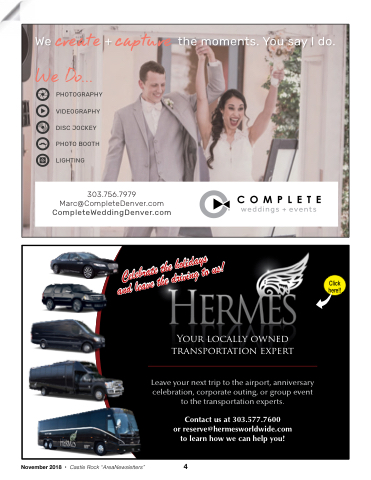 create capture
Complete Weddings + Events
Photogr
Photo Photo Booth Lighting
y
D
is
o ckey
ap hy
V
id
eo
graph
DJ
cJ
We Do PHOTOGRAPHY VIDEOGRAPHY DISC JOCKEY PHOTO BOOTH LIGHTING
303 756 7979 Marc@CompleteDenver com com CompleteWeddingDenver com com Click here!!
Your locally owned transportation expert
Leave your next trip to the airport anniversary celebration corporate outing or or or group event to the transportation experts Contact us at 303 577 7600
or or reserve@hermesworldwide com to learn how we can help you!
November 2018 • Castle Rock
"AreaNewsletters" 4 Celebrate the the holidays and leave the the driving to us!