Page 11 - AreaNewsletters "Dec'19" issue
P. 11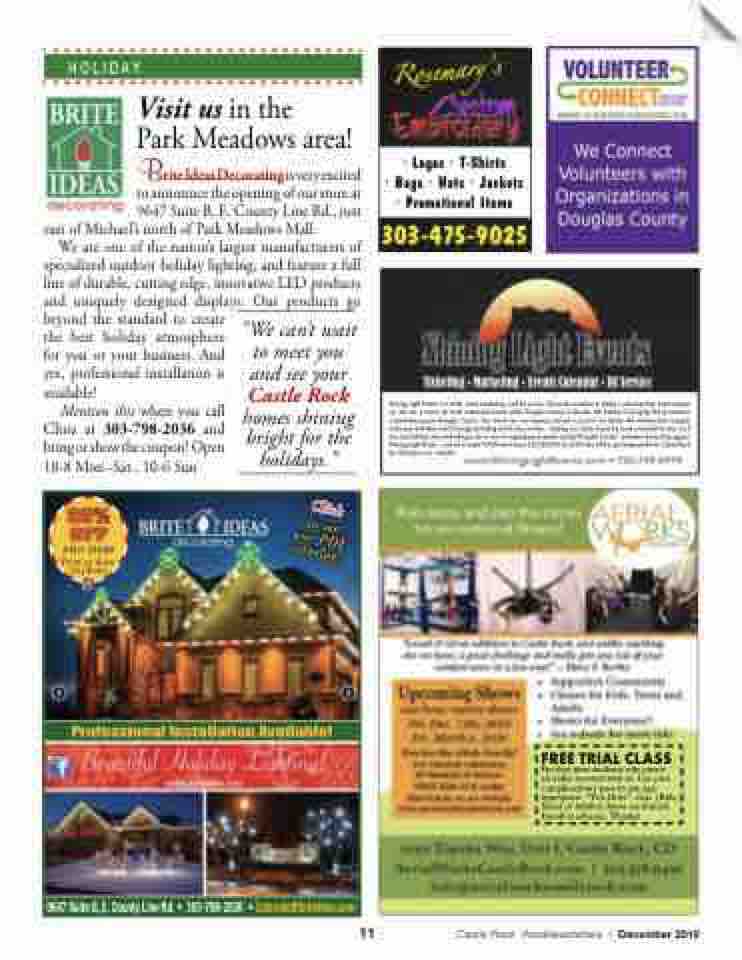 • Logos • T-Shirts
• Bags • Hats • Jackets • Promotional Items
303-475-9025
H OL I D A Y
Visit us in the
Park Meadows area!
Brite Ideas Decorating is very excited to announce the opening of our store at 9647 Suite B, E. County Line Rd., just
east of Michael's north of Park Meadows Mall.
We are one of the nation's largest manufacturers of specialized outdoor holiday lighting, and feature a full line of durable, cutting edge, innovative LED products and uniquely designed displays. Our products go
Volunteer Connect Douglas County Community Service
www.volunteerconnectdc.org
Ticketing • Marketing • Events Calendar • DJ Service
Shining Light Events is a ticket, event marketing, and DJ source. We pride ourselves in being a one-stop-shop event compa- ny. We are a source for local community events within Douglas County Colorado. We believe in bringing family events to communities across Douglas County. Our clients run our business and are a part of our family. We achieve their requests and assist with their event through providing world class service... helping our clients events be more successful for less. So if you are looking some something to do or you're organizing an event, contact Douglas County's premiere promoting agency Shining Light Events... and let us make YOUR event more SUCCESSFUL for LESS! See all the upcoming events for Castle Rock by clicking on our website!
beyond the standard to create the best holiday atmosphere for you or your business. And yes, professional installation is available!
Mention this when you call Chris at 303-798-2036 and bringorshowthecoupon! Open 10-8 Mon.-Sat., 10-6 Sun.
"We can't wait to meet you and see your Castle Rock homes shining bright for the holidays."
Aerial Works Shows
FREE TRIAL CLASS
For  rst-time students who create
an onlne account with us. Use your complimentary pass in any age- appropriate "Test-Drive" class (Kids, Teens or Adults). Spots are limited. Enroll in advance. Thanks!
20%
OFF
one item
Print or show on phone
Professional Installation Available!
9647 Suite B, E. County Line Rd. • 303-798-2036 • Colorado@briteidea.com
11 Castle Rock "AreaNewsletters • December 2019
Rosemary's
Click
to see our PDF catalog!