Page 28 - AreaNewsletters "June 2020" issue
P. 28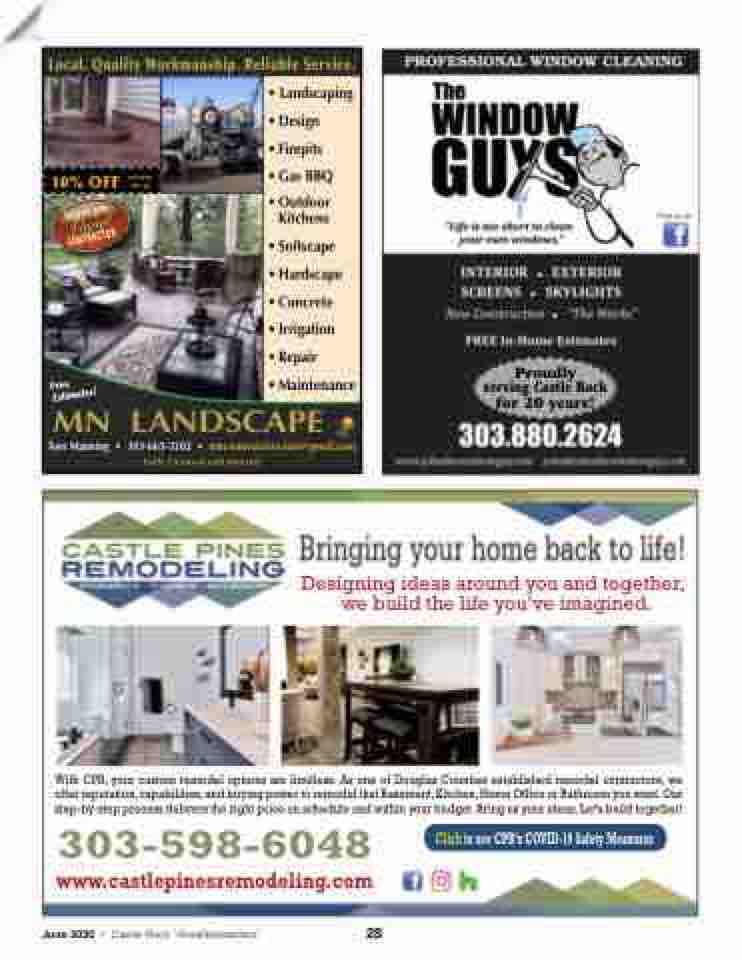 Local. Quality Workmanship. Reliable Service.
• Landscaping
• Design
• Firepits
• Gas BBQ
• Outdoor Kitchens
• Softscape
• Hardscape
• Concrete
• Irrigation
• Repair
• Maintenance
10% OFF mention this ad
MN LANDSCAPE
Tom Manning • 303-663-3202 • mnconstruction.tom@gmail.com Fully Licensed and Insured.
The Window Guys Window Cleaning Washing
Proudly serving Castle Rock for 20 years!
Castle Pines Remodeling Contractor
Designing ideas around you and together, we build the life you've imagined.
With CPR, your custom remodel options are limitless. As one of Douglas Counties established remodel contractors, we offer reputation, capabilities, and buying power to remodel that Basement, Kitchen, Home Office or Bathroom you want. Our step-by-step process delivers the right price on schedule and within your budget. Bring us your ideas. Let's build together!
303-598-6048
www.castlepinesremodeling.com
Click to see CPR's COVID-19 Safety Measures
June 2020 • Castle Rock "AreaNewsletters" 28
Support your
Local
CONTRACTOR
Free Estimates!