Page 31 - AreaNewsletters "June 2020" issue
P. 31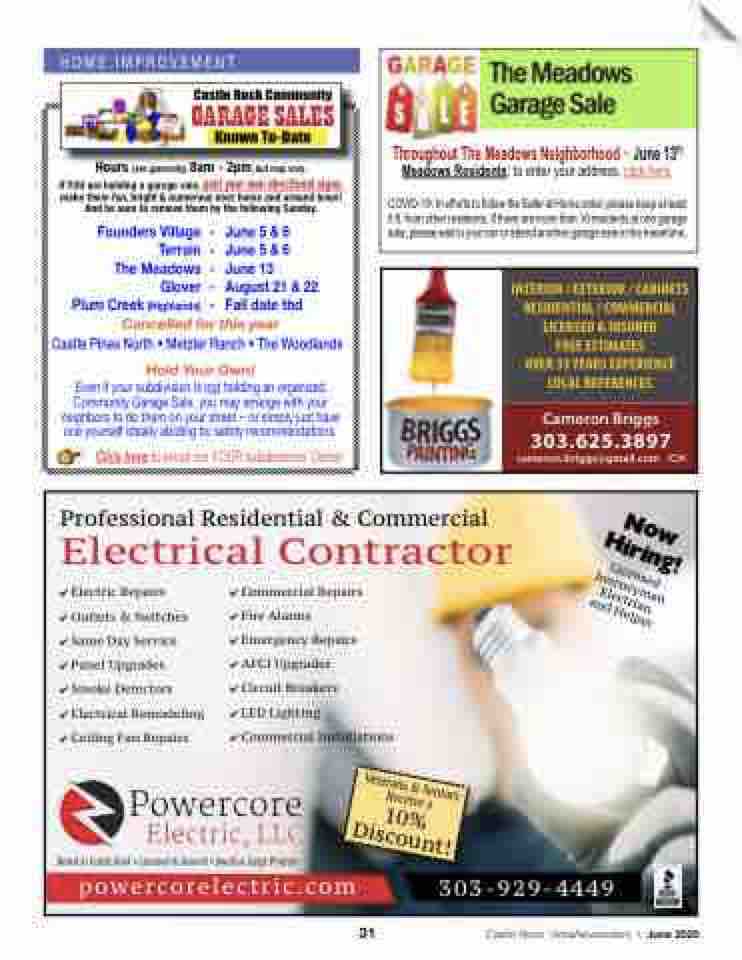 Throughout The Meadows Neighborhood ~ June 13th Meadows Residents: to enter your address, click here.
COVID-19: In efforts to follow the Safer at Home order, please keep at least 6 ft. from other residents. If there are more than 10 residents at one garage sale, please wait in your car or attend another garage sale in the meantime.
H O ME I MP R O V E ME N T
Castle Rock Community
GARAGE SALES
Known To-Date
Hours (are generally) 8am - 2pm, but may vary.
If YOU are holding a garage sale, post your own directional signs, make them fun, bright & numerous near home and around town! And be sure to remove them by the following Sunday.
Founders Village - Terrain - The Meadows - Glover - Plum Creek (Highlands) -
June 5 & 6 June 5 & 6 June 13 August 21 & 22 Fall date tbd
INTERIOR / EXTERIOR / CABINETS
Briggs Painting
RESIDENTIAL / COMMERCIAL LICENSED & INSURED FREE ESTIMATES
OVER 35 YEARS EXPERIENCE LOCAL REFERENCES
Cameron Briggs
303.625.3897
cameron.briggs@gmail.com
Cancelled for this year
Castle Pines North • Metzler Ranch • The Woodlands
Hold Your Own!
Even if your subdivision is not holding an organized Community Garage Sale, you may arrange with your neighbors to do them on your street ~ or simply just have one yourself ideally abiding by safety recommendations.
Click here to email me YOUR subdivisions' Dates!
Professional Residential & Commercial
Electrical Contractor
4 Electric Repairs
4 Outlets & Switches
4 Same Day Service
4 Panel Upgrades
4 Smoke Detectors
4 Electrical Remodeling 4 Ceiling Fan Repairs
4 Commercial Repairs 4 Fire Alarms
4 Emergency Repairs 4 AFCI Upgrades
4 Circuit Breakers
4 LED Lighting
4 Commercial Installations
Based in Castle Rock • Licensed & Insured • Small or Large Projects
powercorelectric.com
303-929-4449
31 Castle Rock "AreaNewsletters • June 2020
Now Hiring!
Licensed Journeyman Electrian and Helper
Veterans & Seniors Receive a
10% Discount!