Page 32 - AreaNewsletters "June 2020" issue
P. 32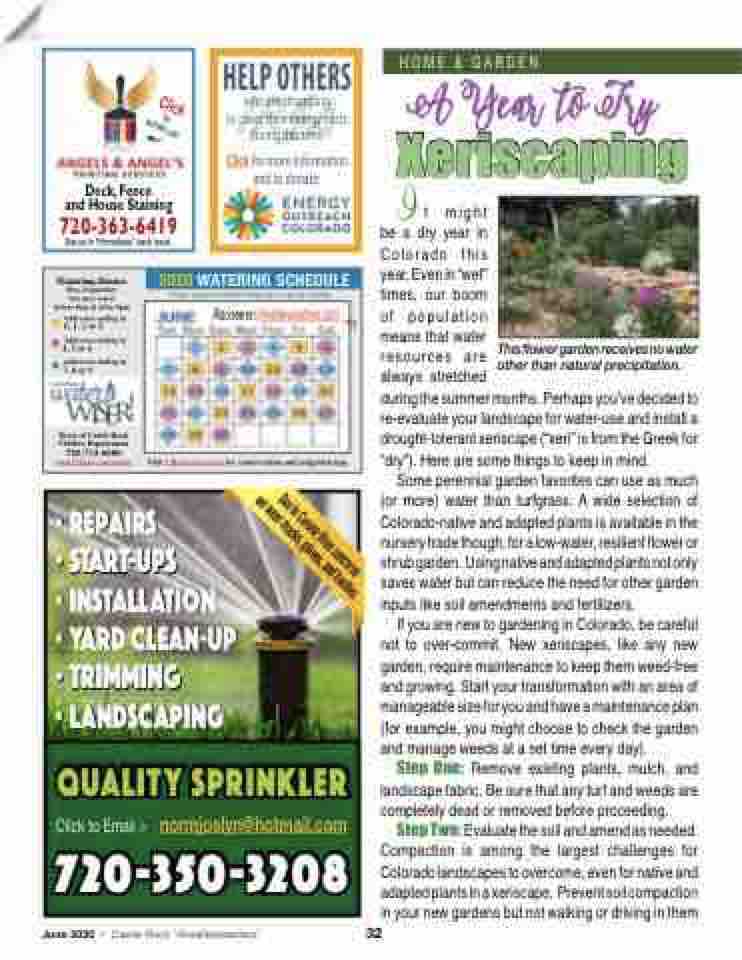 Angels
Deck, Fence and House Staining
720-363-6419
See us in "Homebase" each issue.
HELP OTHERS
who are struggling
to cover their energy costs during this time.
Click for more information and to donate:
A Year to Try
Xeriscaping
I
t might be a dry year in Colorado this year. Even in "wet" times, our boom of population
Watering Hours: May–September You may water before 8am & after 8pm
n Addresses ending in 0, 1, 2 or 3
l Addresses ending in 4, 5 or 6
u Addresses ending in 7, 8 or 9
Town of Castle Rock Utilities Department 720-733-6000 www.CRgov.com/water
Certain streets in Founders Village have a special schedule.
Visit CRconserve.com for conservation and irrigation tips.
Alsoseeon:AreaNewsletters.com
2020 WATERING SCHEDULE
means that water This  ower garden receives no water resources are other than natural precipitation.
always stretched
during the summer months. Perhaps you've decided to re-evaluate your landscape for water-use and install a drought-tolerant xeriscape ("xeri" is from the Greek for "dry"). Here are some things to keep in mind.
Some perennial garden favorites can use as much (or more) water than turfgrass. A wide selection of Colorado-native and adapted plants is available in the nursery trade though, for a low-water, resilient  ower or shrubgarden. Usingnativeandadaptedplantsnotonly saves water but can reduce the need for other garden inputs like soil amendments and fertilizers.
If you are new to gardening in Colorado, be careful not to over-commit. New xeriscapes, like any new garden, require maintenance to keep them weed-free and growing. Start your transformation with an area of manageable size for you and have a maintenance plan (for example, you might choose to check the garden and manage weeds at a set time every day).
Step One: Remove existing plants, mulch, and landscape fabric. Be sure that any turf and weeds are completely dead or removed before proceeding.
Step Two: Evaluate the soil and amend as needed. Compaction is among the largest challenges for Colorado landscapes to overcome, even for native and adaptedplantsinaxeriscape. Preventsoilcompaction in your new gardens but not walking or driving in them
• repairs
• START-UPS
• INSTALLATION •YARDCLEAN-UP • TRIMMING
• LANDSCAPING
QUALITY SPRINKLER
Click to Email > normjoslyn@hotmail.com 720-350-3208
June 2020 • Castle Rock "AreaNewsletters" 32
H O ME & G A R D E N
Click
to email us!
Due to Corona Virus concerns we wear masks, gloves, and booties.