Page 28 - AreaNewsletter 'Aug'19' issue
P. 28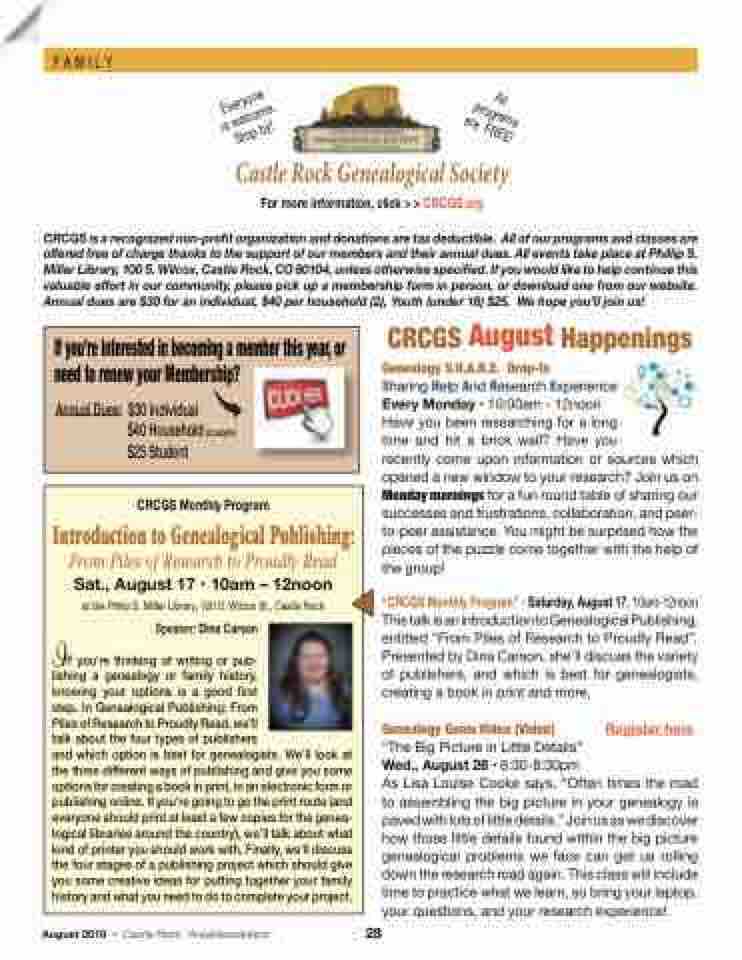 F A MI L Y
Castle Rock Genealogical Society
For more information, click > > CRCGS.org
CRCGSisarecognizednon-pro torganizationanddonationsaretaxdeductible. Allofourprogramsandclassesare o ered free of charge thanks to the support of our members and their annual dues. All events take place at Phillip S. Miller Library, 100 S. Wilcox, Castle Rock, CO 80104, unless otherwise speci ed. If you would like to help continue this valuable e ort in our community, please pick up a membership form in person, or download one from our website. Annual dues are $30 for an individual, $40 per household (2), Youth (under 18) $25. We hope you'll join us!
If you're interested in becoming a member this year, or need to renew your Membership?
Annual Dues: $30 Individual
$40 Household (2 people)
$25 Student
CRCGS Monthly Program
Introduction to Genealogical Publishing:
From Piles of Research to Proudly Read
Sat., August 17 • 10am – 12noon
at the Philip S. Miller Library, 100 S. Wilcox St., Castle Rock
Speaker: Dina Carson
If you're thinking of writing or pub-
lishing a genealogy or family history,
knowing your options is a good  rst
step. In Genealogical Publishing: From
Piles of Research to Proudly Read, we'll
talk about the four types of publishers
and which option is best for genealogists. We'll look at the three di erent ways of publishing and give you some options for creating a book in print, in an electronic form or publishing online. If you're going to go the print route (and everyone should print at least a few copies for the genea- logical libraries around the country), we'll talk about what kind of printer you should work with. Finally, we'll discuss the four stages of a publishing project which should give you some creative ideas for putting together your family history and what you need to do to complete your project.
August 2019 • Castle Rock "AreaNewsletters" 28
CRCGS August Happenings
Genealogy S.H.A.R.E. Drop-In
Sharing Help And Research Experience
Every Monday • 10:00am - 12noon
Have you been researching for a long
time and hit a brick wall? Have you
recently come upon information or sources which opened a new window to your research? Join us on Monday mornings for a fun round table of sharing our successes and frustrations, collaboration, and peer- to-peer assistance. You might be surprised how the pieces of the puzzle come together with the help of the group!
"CRCGS Monthly Program" - Saturday, August 17, 10am-12noon This talk is an introduction to Genealogical Publishing, entitled "From Piles of Research to Proudly Read". Presented by Dina Carson, she'll discuss the variety of publishers, and which is best for genealogists, creating a book in print and more.
Genealogy Gems Video (Video) Register here "The Big Picture in Little Details"
Wed., August 28 • 6:30-8:30pm
As Lisa Louise Cooke says, "Often times the road to assembling the big picture in your genealogy is paved with lots of little details." Join us as we discover how those little details found within the big picture genealogical problems we face can get us rolling down the research road again. This class will include time to practice what we learn, so bring your laptop, your questions, and your research experience!
Everyone is welcome. Stop by!
All programs are FREE!