Page 32 - AreaNewsletter 'Aug'19' issue
P. 32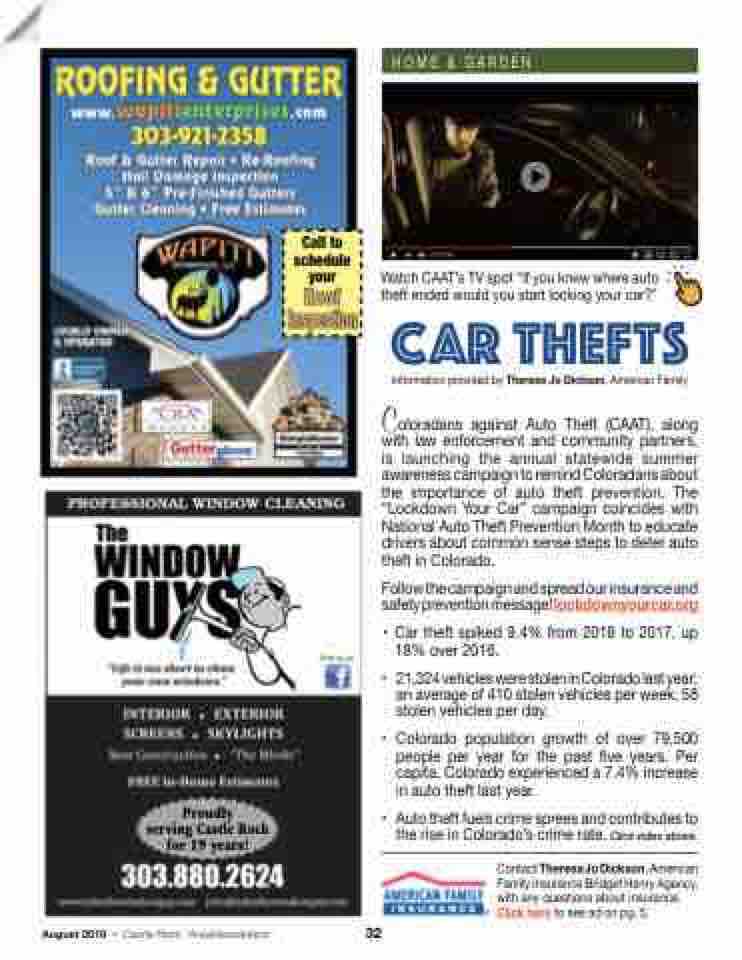 www.wapitienterprises.com
Call to schedule your
Roof Inspection
H O ME & G A R D E N
The Window Guys Window Cleaning Washing
Watch CAAT's TV spot "If you knew where auto theft ended would you start locking your car?"
CAR THEFTS
Information provided by Theresa Jo Dickson, American Family
Coloradans against Auto Theft (CAAT), along with law enforcement and community partners, is launching the annual statewide summer awareness campaign to remind Coloradans about the importance of auto theft prevention. The "Lockdown Your Car" campaign coincides with National Auto Theft Prevention Month to educate drivers about common sense steps to deter auto theft in Colorado.
Follow the campaign and spread our insurance and safety prevention message! lockdownyourcar.org
• Car theft spiked 9.4% from 2018 to 2017, up 18% over 2016.
• 21,324vehicleswerestoleninColoradolastyear; an average of 410 stolen vehicles per week; 58 stolen vehicles per day.
• Colorado population growth of over 79,500 people per year for the past  ve years. Per capita, Colorado experienced a 7.4% increase in auto theft last year.
• Autotheftfuelscrimespreesandcontributesto the rise in Colorado's crime rate. Click video above.
Proudly serving Castle Rock for 19 years!
August 2019 • Castle Rock "AreaNewsletters" 32
Contact Theresa Jo Dickson, American Family Insurance Bridget Henry Agency, with any questions about insurance. Click here to see ad on pg. 5.