Page 26 - AreaNewsletters "Jan 2021" issue
P. 26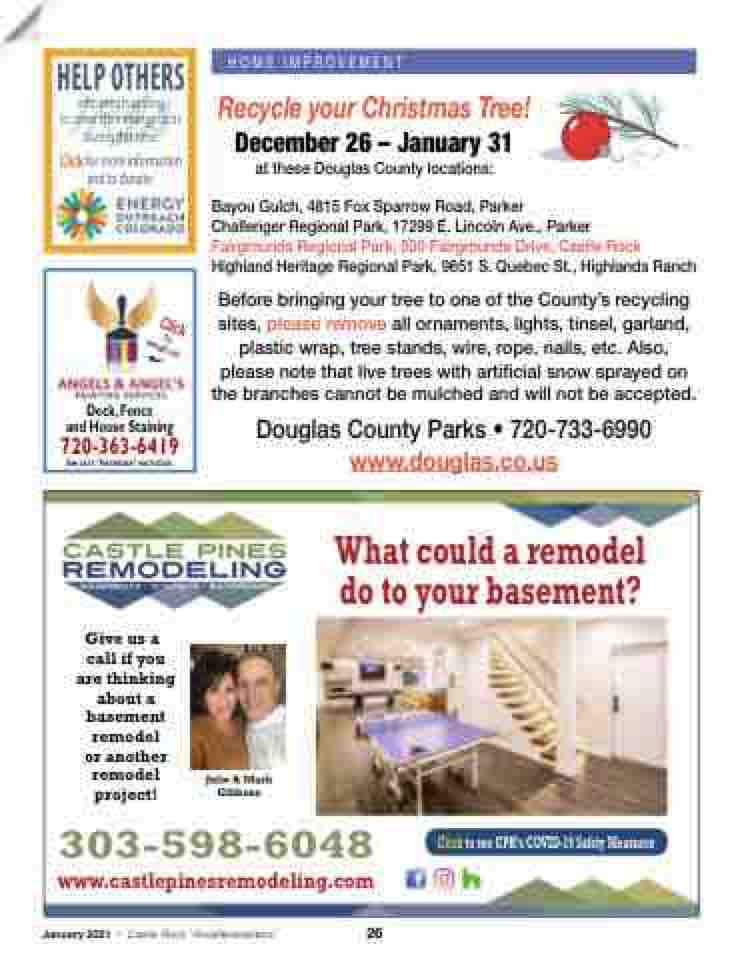 HELP OTHERS
who are struggling
to cover their energy costs during this time.
Click for more information and to donate:
H O ME I MP R O V E ME N T
Recycle your Christmas Tree!
December 26 – January 31
at these Douglas County locations:
Bayou Gulch, 4815 Fox Sparrow Road, Parker
Challenger Regional Park, 17299 E. Lincoln Ave., Parker
Fairgrounds Regional Park, 500 Fairgrounds Drive, Castle Rock Highland Heritage Regional Park, 9651 S. Quebec St., Highlands Ranch
Before bringing your tree to one of the County's recycling sites, please remove all ornaments, lights, tinsel, garland, plastic wrap, tree stands, wire, rope, nails, etc. Also, please note that live trees with arti cial snow sprayed on the branches cannot be mulched and will not be accepted.
Douglas County Parks • 720-733-6990
www.douglas.co.us
Angels
Deck, Fence and House Staining
720-363-6419
See us in "Homebase" each issue.
Castle Pines Remodeling Contractor
What could a remodel do to your basement?
Give us a call if you
are thinking about a basement remodel or another remodel project!
Julie & Mark Gibbons
303-598-6048
www.castlepinesremodeling.com
Click to see CPR's COVID-19 Safety Measures
January 2021 • Castle Rock "AreaNewsletters" 26
Click
to email us!