Page 13 - AreaNewsletters "Feb 2021" issue
P. 13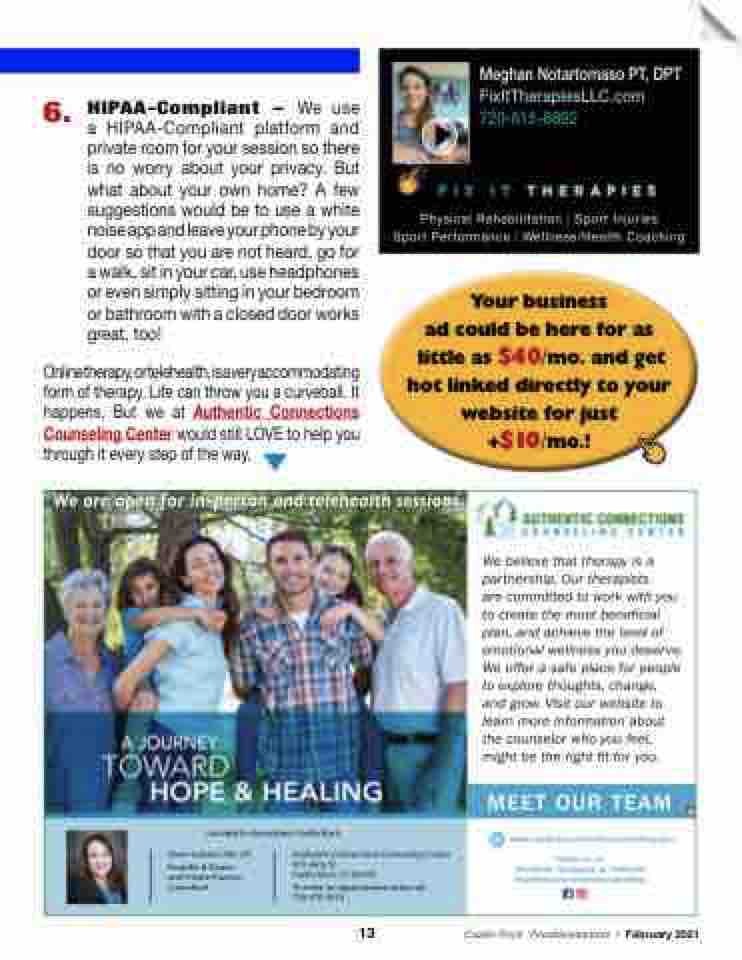 HEALTH • WELLNESS • LIFESTYLE
6. HIPAA-Compliant – We use a HIPAA-Compliant platform and private room for your session so there is no worry about your privacy. But what about your own home? A few suggestions would be to use a white noise app and leave your phone by your door so that you are not heard, go for a walk, sit in your car, use headphones or even simply sitting in your bedroom or bathroom with a closed door works great, too!
Onlinetherapy,ortelehealth,isaveryaccommodating form of therapy. Life can throw you a curveball. It happens. But we at Authentic Connections Counseling Center would still LOVE to help you through it every step of the way.
Authentic Connections Counseling Center
Meghan Notartomaso PT, DPT
13
Castle Rock "AreaNewsletters • February 2021
HEALTH • WELLNESS • LIFESTYLE
FixItTherapiesLLC.com
720-815-6692
Physical Rehabilitation | Sport Injuries Sport Performance | Wellness/Health Coaching
Your business
ad could be here for as
little as $40/mo. and get hot linked directly to your
website for just +$10/mo.!