Page 15 - AreaNewsletters "Oct 2021" issue
P. 15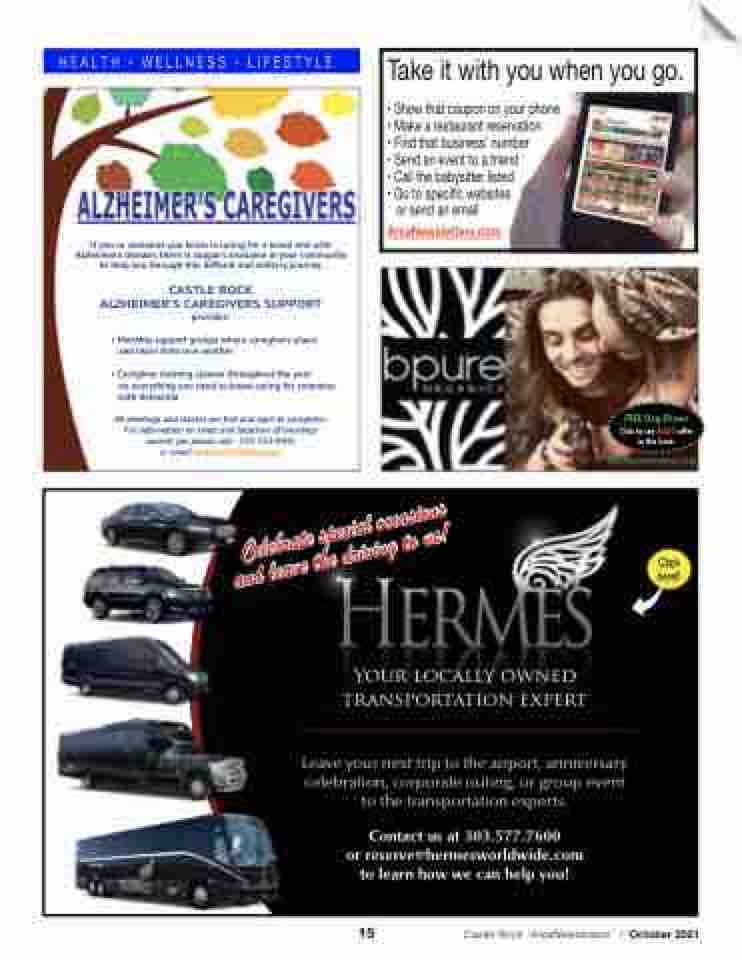 Take it with you when you go.
• Show that coupon on your phone • Make a restaurant reservation
• Find that business' number
• Send an event to a friend
• Call the babysitter listed • Go to speci c websites
or send an email
AreaNewsletters.com
HEALTH • WELLNESS • LIFESTYLE
Alzheimer's Caregivers Support Maureen Shul
If you or someone you know is caring for a loved one with Alzheimers disease, there is support available in your community to help you through this dif cult and solitary journey.
CASTLE ROCK
ALZHEIMER'S CAREGIVERS SUPPORT provides:
• Monthly support groups where caregivers share and learn from one another
• Caregiver training classes throughout the year
on everything you need to know caring for someone with dementia
All meetings and classes are free and open to caregivers. For information on times and locations of meetings nearest you please call: 720-733-0491
or email mashul1010@aol.com
FREE Dog Chews
Click to see BOGO o er in this issue.
Click here!!
Your locally owned transportation expert
Leave your next trip to the airport, anniversary celebration, corporate outing, or group event to the transportation experts.
Contact us at 303.577.7600
or reserve@hermesworldwide.com to learn how we can help you!
15 Castle Rock "AreaNewsletters" • October 2021
Celebrate special occasions and leave the driving to us!