Page 34 - AreaNewsletters "Oct 2021" issue
P. 34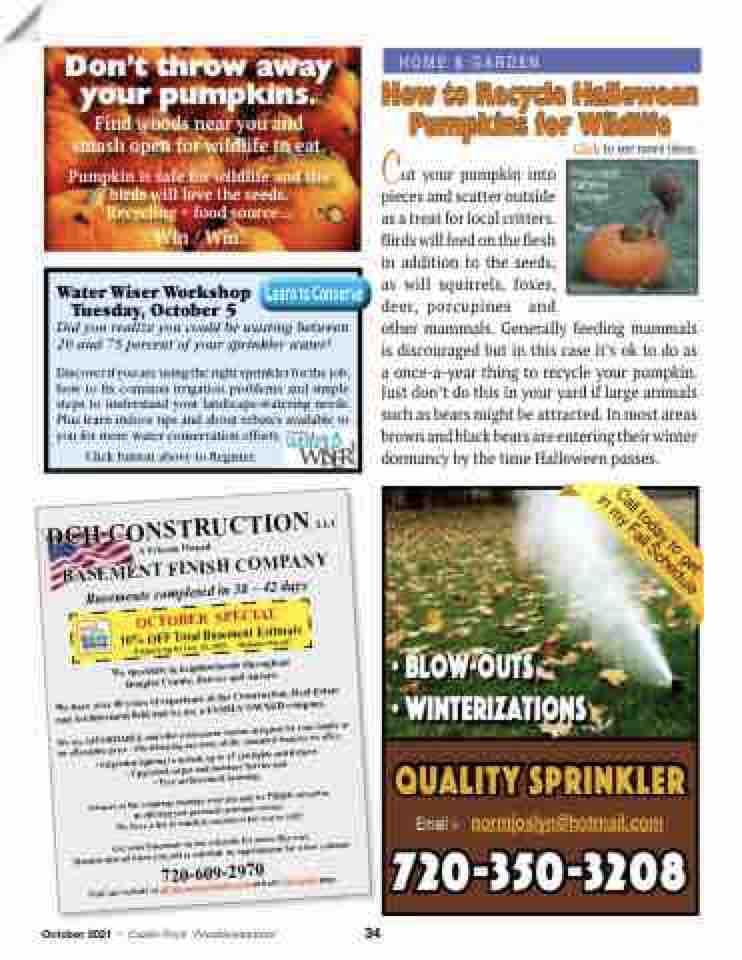 Don't throw away
your pumpkins.
Find woods near you and smash open for wildlife to eat.
Pumpkin is safe for wildlife and the birds will love the seeds. Recycling + food source...
Win / Win.
HOME & GARDEN
How to Recycle Halloween Pumpkins for Wildlife
C
Click to see more ideas.
ut your pumpkin into
pieces and scatter outside
as a treat for local critters.
Birds will feed on the  esh
in addition to the seeds,
as will squirrels, foxes,
deer, porcupines and
other mammals. Generally feeding mammals is discouraged but in this case it's ok to do as a once-a-year thing to recycle your pumpkin. Just don't do this in your yard if large animals such as bears might be attracted. In most areas brown and black bears are entering their winter dormancy by the time Halloween passes.
Water Wiser Workshop Tuesday, October 5
Did you realize you could be wasting between 20 and 75 percent of your sprinkler water?
Discover if you are using the right sprinkler for the job, how to  x common irrigation problems, and simple steps to understand your landscape-watering needs. Plus learn indoor tips and about rebates available to you for more water conservation efforts.
Click button above to Register.
Learn to Conserve
• Blow-Outs
• Blow-Outs
• Winterizations
• Winterizations
QUALITY SPRINKLER
Email > normjoslyn@hotmail.com 720-350-3208
October 2021 • Castle Rock "AreaNewsletters"
34
Photo credit: Katherine Flickinger
Call today to get in my Fall Schedule
DCH CONSTRUCTION, LLC A Veteran Owned
BASEMENT FINISH COMPANY Basements completed in 38 – 42 days
OCTOBER SPECIAL
10% OFF Total Basement Estimate if signed up by Oct. 15, 2021 Mention this ad!
We specialize in neighborhoods throughout Douglas County, Denver and Aurora
We have over 40 years of experience in the Construction, Real Estate and Architectural  eld and we are a FAMILY OWNED company.
We are AFFORDABLE and offer a basement custom designed for your family at an affordable price. The following are some of the standard features we offer:
• Upgraded lighting to include up to 15 can lights and  xtures • Upgraded carpet and moisture barrier pad
• Free architectural drawings
Owners of the company manage your job and we PRIDE ourselves in offering you personal customer service.
We have a list of satis ed customers for you to call!!
Get your basement on our schedule for starts this year.
Mention this ad when you call to schedule an appointment for a free estimate
720-609-2970
Visit our website at DCHconstructionllc.com and our Facebook page.