Page 36 - AreaNewsletters "Oct 2021" issue
P. 36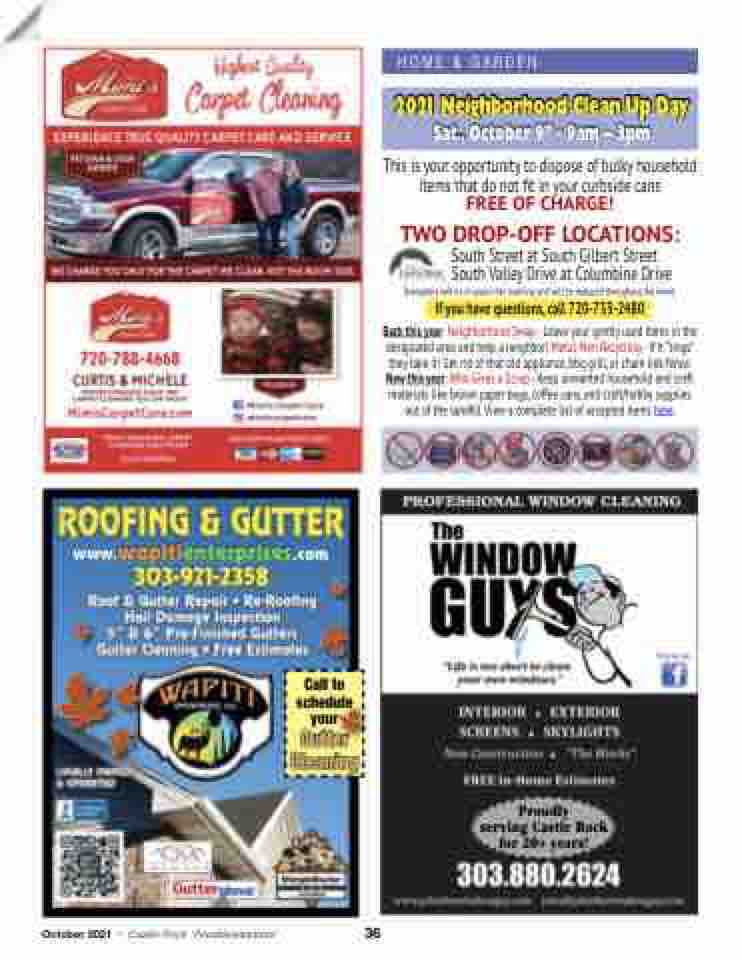 Mimi's Carpet Care Upholstery Cleaning
HOME & GARDEN
2021 Neighborhood Clean Up Day
th
Sat., October 9 • 9am – 3pm
www.wapitienterprises.com
This is your opportunity to dispose of bulky household items that do not  t in your curbside cans FREE OF CHARGE!
TWO DROP-OFF LOCATIONS:
South Street at South Gilbert Street
South Valley Drive at Columbine Drive Dumpsters will be in place that morning and will be replaced throughout the event.
If you have questions, call 720-733-2480
Back this year: Neighborhood Swap - Leave your gently used items in the designated area and help a neighbor! Metal Men Recycling - If it "tings" they take it! Get rid of that old appliance, bbq grill, or chain link fence. New this year: Who Gives a Scrap - Keep unwanted household and craft materials like brown paper bags, coffee cans, and craft/hobby supplies out of the land ll. View a complete list of accepted items here.
The Window Guys Window Cleaning Washing
Call to schedule your
Gutter Cleaning
October 2021 • Castle Rock "AreaNewsletters" 36
Proudly serving Castle Rock for 20+ years!