Page 46 - AreaNewsletters "Oct 2021" issue
P. 46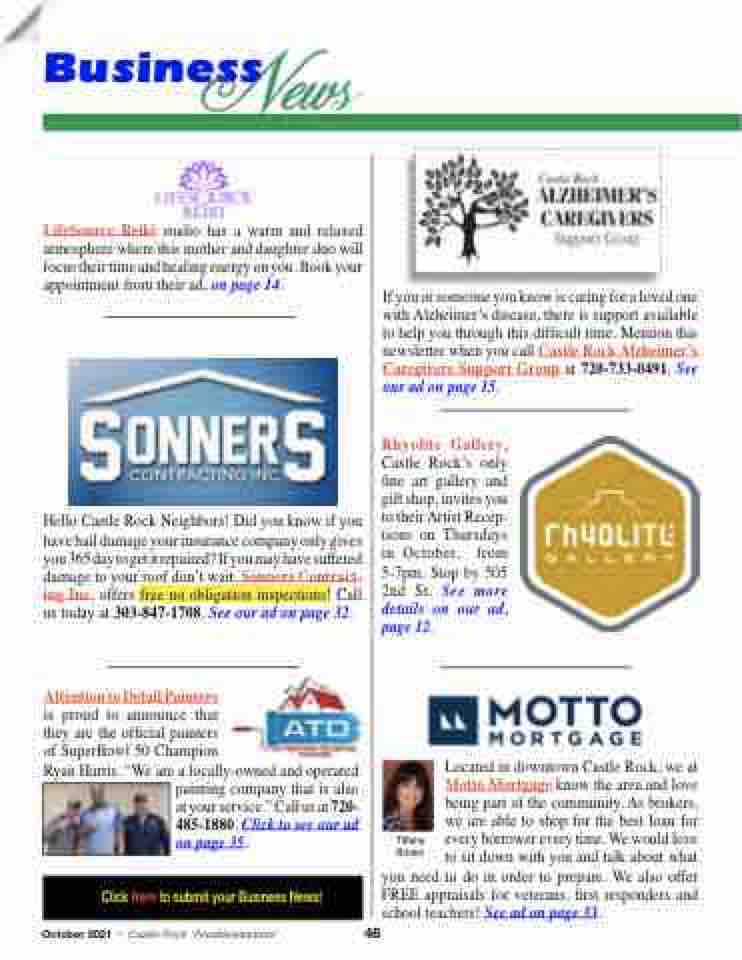 Business
News
LifeSource Reiki studio has a warm and relaxed atmosphere where this mother and daughter duo will focus their time and healing energy on you. Book your appointment from their ad, on page 14.
If you or someone you know is caring for a loved one with Alzheimer's disease, there is support available to help you through this dif cult time. Mention this newsletter when you call Castle Rock Alzheimer's Caregivers Support Group at 720-733-0491. See our ad on page 15.
Rhyolite Gallery, Castle Rock's only  ne art gallery and gift shop, invites you to their Artist Recep- tions on Thursdays in October, from 5-7pm. Stop by 505 2nd St. See more details on our ad, page 12.
Hello Castle Rock Neighbors! Did you know if you have hail damage your insurance company only gives you 365 day to get it repaired? If you may have suffered damage to your roof don't wait, Sonners Contract- ing Inc. offers free no obligation inspections! Call us today at 303-847-1708. See our ad on page 32.
is proud to announce that
they are the of cial painters
of SuperBowl 50 Champion
Ryan Harris. "We are a locally-owned and operated
Click Here to submit your Business News!
October 2021 • Castle Rock "AreaNewsletters" 46
Attention to Detail Painters
painting company that is also at your service." Call us at 720- 485-1880. Click to see our ad on page 35.
Tiffany Brown
Located in downtown Castle Rock, we at Motto Mortgage know the area and love being part of the community. As brokers, we are able to shop for the best loan for every borrower every time. We would love to sit down with you and talk about what
you need to do in order to prepare. We also offer FREE appraisals for veterans,  rst responders and school teachers! See ad on page 33.