Page 21 - AreaNewsletters "July 2021" issue
P. 21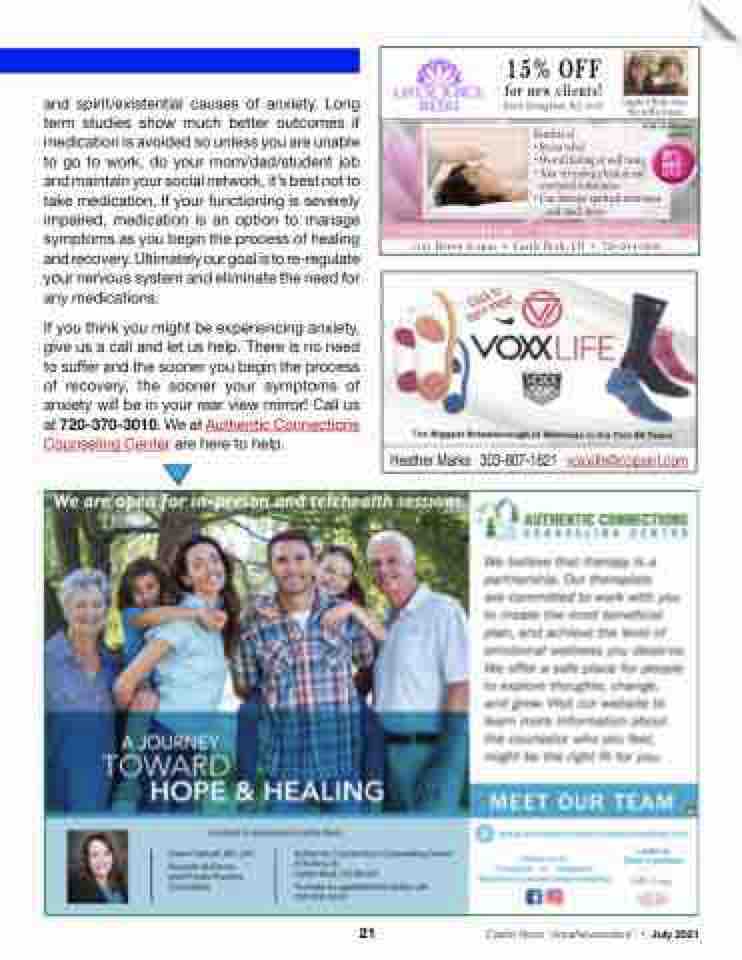 15% OFF
for new clients!
Good throughout July 2021
Daughter &Mother owners, Shay and Rita Comeaux
Gift certificates available
emotional imbalances
• Can increase spiritual awareness
...and much more
Benefits of :
• Stress relief
• Overall feeling ofwell being • Aids in healing physical and
www.lifesourcereiki.com • LifesourceReiki6@gmail.com
5141 Devon Avenue • Castle Rock, CO • 720-244-9249
10%
OFF with ad
HEALTH • WELLNESS • LIFESTYLE
Voxx Life Wellness Pain Relief
Heather Marks • 303-807-1621 • voxxlife@ccipaint.com
and spirit/existential causes of anxiety. Long term studies show much better outcomes if medication is avoided so unless you are unable to go to work, do your mom/dad/student job and maintain your social network, it's best not to take medication. If your functioning is severely impaired, medication is an option to manage symptoms as you begin the process of healing and recovery. Ultimately our goal is to re-regulate your nervous system and eliminate the need for any medications.
If you think you might be experiencing anxiety, give us a call and let us help. There is no need to su er and the sooner you begin the process of recovery, the sooner your symptoms of anxiety will be in your rear view mirror! Call us at 720-370-3010. We at Authentic Connections Counseling Center are here to help.
Authentic Connections Counseling Center
21 Castle Rock "AreaNewsletters" • July 2021
Click to learn more!