Page 34 - AreaNewsletters "July 2021" issue
P. 34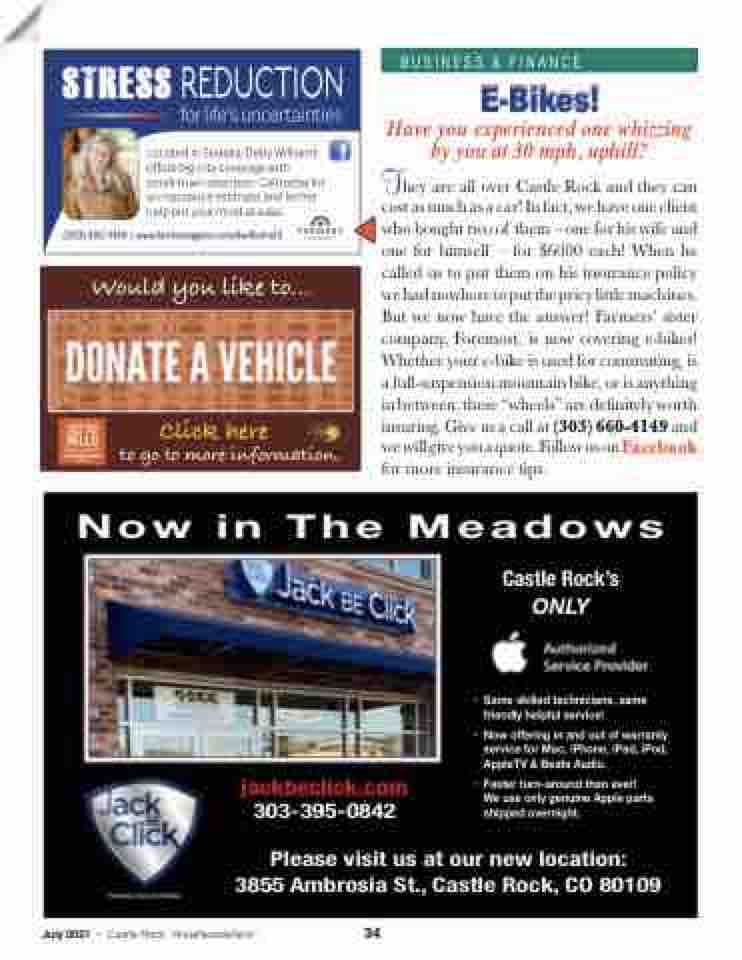 Deby Williams Farmers Insurance Agent
B US I NE S S & F I NA NCE
Located in Sedalia, Deby Williams o ers big-city coverage with small-town attention. Call today for an insurance estimate and let her help put your mind at ease.
(303) 660-4149 | www.farmersagent.com/dwilliams13
Have you experienced one whizzing by you at 30 mph, uphill?
Just Say Hello
Would you like to...
Click here
to go to more information.
They are all over Castle Rock and they can cost as much as a car! In fact, we have one client who bought two of them – one for his wife and one for himself – for $6000 each! When he called us to put them on his insurance policy we had nowhere to put the pricy little machines. But we now have the answer! Farmers' sister company, Foremost, is now covering e-bikes! Whether your e-bike is used for commuting, is a full-suspension mountain bike, or is anything in between, these "wheels" are de nitely worth insuring. Give us a call at (303) 660-4149 and we will give you a quote. Follow us on Facebook for more insurance tips.
Facing Homelessness
Now in The Meadows
Castle Rock's
ONLY
• Same skilled technicians, same friendly helpful service!
• Now o ering in and out of warranty service for Mac, iPhone, iPad, iPod, AppleTV & Beats Audio.
• Faster turn-around than ever! We use only genuine Apple parts shipped overnight.
Please visit us at our new location: 3855 Ambrosia St., Castle Rock, CO 80109
July 2021 • Castle Rock "AreaNewsletters" 34
jackbeclick.com
303-395-0842
E-Bikes!