Page 36 - AreaNewsletters "July 2021" issue
P. 36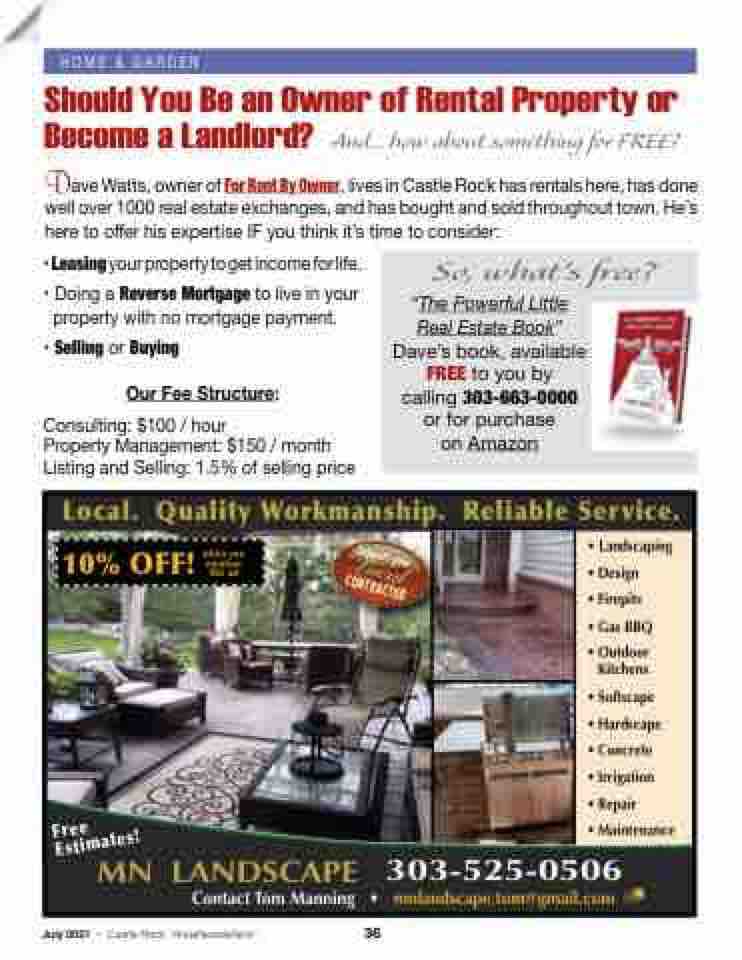 HOME & GARDEN
Should You Be an Owner of Rental Property or Become a Landlord? And... how about something for FREE?
Dave Watts, owner of For Rent By Owner, lives in Castle Rock has rentals here, has done well over 1000 real estate exchanges, and has bought and sold throughout town. He's here to o er his expertise IF you think it's time to consider:
• Leasing your property to get income for life. • Doing a Reverse Mortgage to live in your
property with no mortgage payment. • Selling or Buying
Our Fee Structure:
Consulting: $100 / hour
Property Management: $150 / month Listing and Selling: 1.5% of selling price
So, what's free?
"The Powerful Little Real Estate Book" Dave's book, available FREE to you by calling 303-663-0000 or for purchase
on Amazon
Local. Quality Workmanship. Reliable Service.
10% OFF! when you this ad
mention
303-525-0506 Contact Tom Manning • mnlandscape.tom@gmail.com
MN LANDSCAPE
• Landscaping
• Design
• Firepits
• Gas BBQ
• Outdoor Kitchens
• Softscape
• Hardscape
• Concrete
• Irrigation
• Repair
• Maintenance
July 2021 • Castle Rock "AreaNewsletters" 36
Support your
Local
CONTRACTOR
Free Estimates!