Page 14 - AreaNewsletters "July 2020" issue
P. 14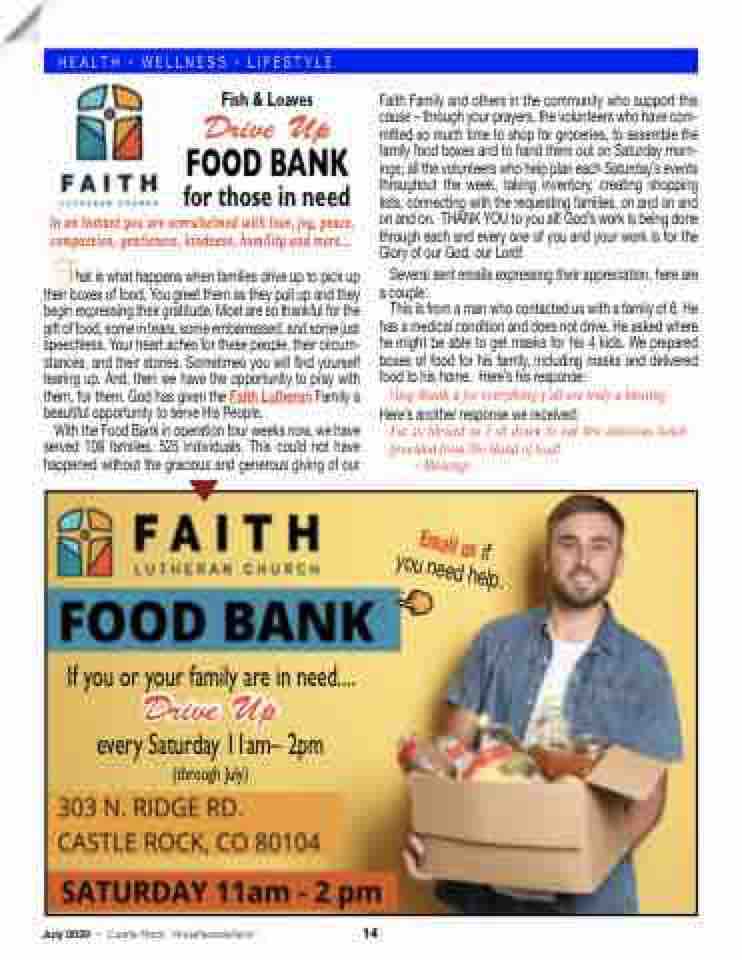 HEALTH • WELLNESS • LIFESTYLE
Fish & Loaves
Drive Up
FOOD BANK
for those in need
In an instant you are overwhelmed with love, joy, peace, compassion, gentleness, kindness, humility and more....
T
With the Food Bank in operation four weeks now, we have served 108 families, 525 individuals. This could not have happened without the gracious and generous giving of our
Faith Family and others in the community who support this cause – through your prayers, the volunteers who have com- mitted so much time to shop for groceries, to assemble the family food boxes and to hand them out on Saturday morn- ings; all the volunteers who help plan each Saturday's events throughout the week, taking inventory, creating shopping lists, connecting with the requesting families, on and on and onandon. THANKYOUtoyouall!God'sworkisbeingdone through each and every one of you and your work is for the Glory of our God, our Lord!
Several sent emails expressing their appreciation, here are a couple:
This is from a man who contacted us with a family of 6. He has a medical condition and does not drive. He asked where he might be able to get masks for his 4 kids. We prepared boxes of food for his family, including masks and delivered food to his home. Here's his response:
Omg thank u for everything y'all are truly a blessing
Here's another response we received:
I'm so blessed as I sit down to eat this delicious lunch provided fromThe Hand of God!
~ Blessings
hat is what happens when families drive up to pick up their boxes of food. You greet them as they pull up and they begin expressing their gratitude. Most are so thankful for the gift of food, some in tears, some embarrassed, and some just speechless. Your heart aches for these people, their circum- stances, and their stories. Sometimes you will  nd yourself tearing up. And, then we have the opportunity to pray with them, for them. God has given the Faith Lutheran Family a beautiful opportunity to serve His People.
Faith Lutheran Food Bank
If you or your family are in need....
Drive Up
every Saturday 11am– 2pm (through July)
July 2020 • Castle Rock "AreaNewsletters"
14
Email us if you need help.