Page 39 - AreaNewsletters "July 2020" issue
P. 39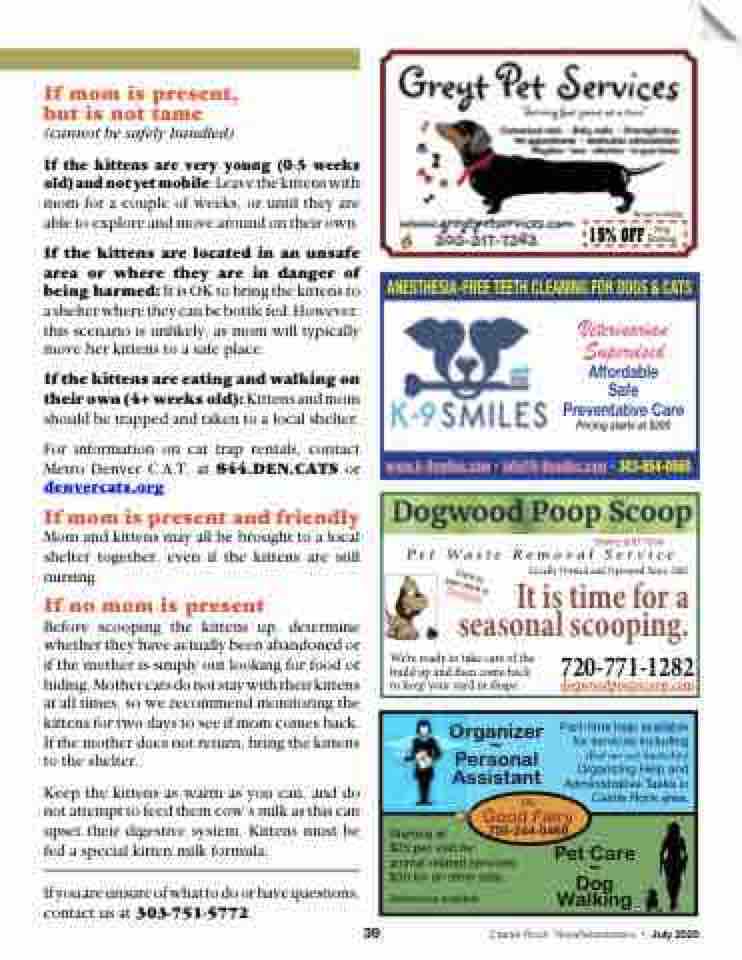 First 15% OFF Booking
ANESTHESIA-FREE TEETH CLEANING FOR DOGS & CATS
Veterinarian Supervised A ordable
Safe
Preventative Care
Pricing starts at $200
www.k-9smiles.com • info@k-9smiles.com • 303-654-0560
Pet Waste Removal Service
It is time for a seasonal scooping.
Starting at $7.75/wk
Locally Owned and Operated Since 2005
We're ready to take care of the build up and then come back to keep your yard in shape.
720-771-1282
dogwoodpoopscoop.com
Organizer ~ Personal Assistant
Good Fairy
Pet Care ~ Dog Walking
Part-time help available for services including (but are not limited to) Organizing Help and Administrative Tasks in Castle Rock area.
The
Starting at
$25 per visit for
animal related services; $30 for all other jobs.
References available.
720-244-0460
If mom is present, but is not tame (cannot be safely handled)
If the kittens are very young (0-3 weeks old) and not yet mobile: Leave the kittens with mom for a couple of weeks, or until they are able to explore and move around on their own.
If the kittens are located in an unsafe area or where they are in danger of being harmed: It is OK to bring the kittens to a shelter where they can be bottle fed. However, this scenario is unlikely, as mom will typically move her kittens to a safe place.
If the kittens are eating and walking on their own (4+ weeks old): Kittens and mom should be trapped and taken to a local shelter.
For information on cat trap rentals, contact Metro Denver C.A.T. at 844.DEN.CATS or denvercats.org.
If mom is present and friendly
Mom and kittens may all be brought to a local shelter together, even if the kittens are still nursing.
If no mom is present
Before scooping the kittens up, determine whether they have actually been abandoned or if the mother is simply out looking for food or hiding. Mother cats do not stay with their kittens at all times, so we recommend monitoring the kittens for two days to see if mom comes back. If the mother does not return, bring the kittens to the shelter.
Keep the kittens as warm as you can, and do not attempt to feed them cow's milk as this can upset their digestive system. Kittens must be fed a special kitten milk formula.
If you are unsure of what to do or have questions, contact us at 303-751-5772.
Not valid on Holidays
39 Castle Rock "AreaNewsletters • July 2020
Click to see more in Spotlight!