Page 46 - AreaNewsletters "July 2020" issue
P. 46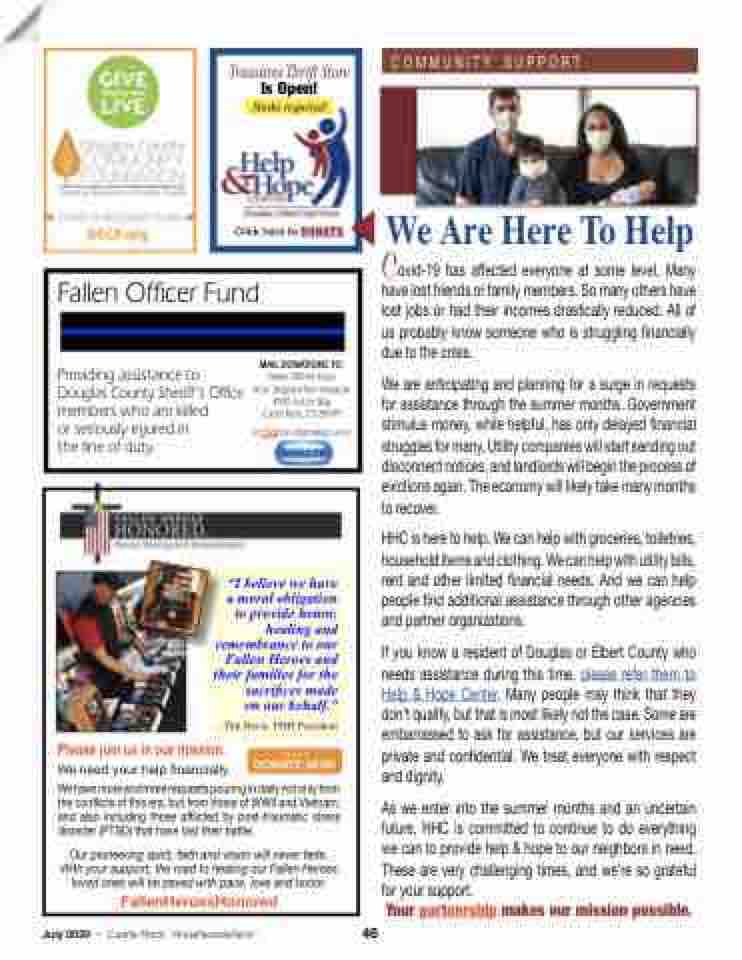 Treasures Thrift Store
Is Open!
Masks required!
Task Force Help and Hope Donate
Click here to DONATE
C O MMU N I T Y S U P P O R T
We Are Here To Help
C
We are anticipating and planning for a surge in requests for assistance through the summer months. Government stimulus money, while helpful, has only delayed  nancial struggles for many. Utility companies will start sending out disconnect notices, and landlords will begin the process of evictions again. The economy will likely take many months to recover.
HHC is here to help. We can help with groceries, toiletries, household items and clothing. We can help with utility bills, rent and other limited  nancial needs. And we can help people  nd additional assistance through other agencies and partner organizations.
If you know a resident of Douglas or Elbert County who needs assistance during this time, please refer them to Help & Hope Center. Many people may think that they don't qualify, but that is most likely not the case. Some are embarrassed to ask for assistance, but our services are private and con dential. We treat everyone with respect and dignity.
As we enter into the summer months and an uncertain future, HHC is committed to continue to do everything we can to provide help & hope to our neighbors in need. These are very challenging times, and we're so grateful for your support.
ovid-19 has a ected everyone at some level. Many have lost friends or family members. So many others have lost jobs or had their incomes drastically reduced. All of us probably know someone who is struggling  nancially due to the crisis.
Fallen Of cer Fund
Providing assistance to Douglas County Sheriff's Of ce members who are killed
or seriously injured in
the line of duty.
MAIL DONATIONS TO: Fallen Of cers Fund Attn: Sergeant Ron Hanavan 4000 Justice Way Castle Rock, CO 80109
or Click for information or to:
"I believe we have a moral obligation to provide honor, healing and remembrance to our Fallen Heroes and their families for the sacri ces made on our behalf."
- Tim Davis, FHH President
Please join us in our mission.
We need your help  nancially.
We have more and more requests pouring in daily not only from the con icts of this era, but from those of WWII and Vietnam, and also including those a icted by post-traumatic stress disorder (PTSD) that have lost their battle.
Our pioneering spirit, faith and vision will never fade. With your support, the road to healing our Fallen Heroes loved ones will be paved with pace, love and honor.
FallenHeroesHonored
July 2020 • Castle Rock "AreaNewsletters" 46
Your partnership makes our mission possible.