Page 44 - AreaNewsletters "July 2020" issue
P. 44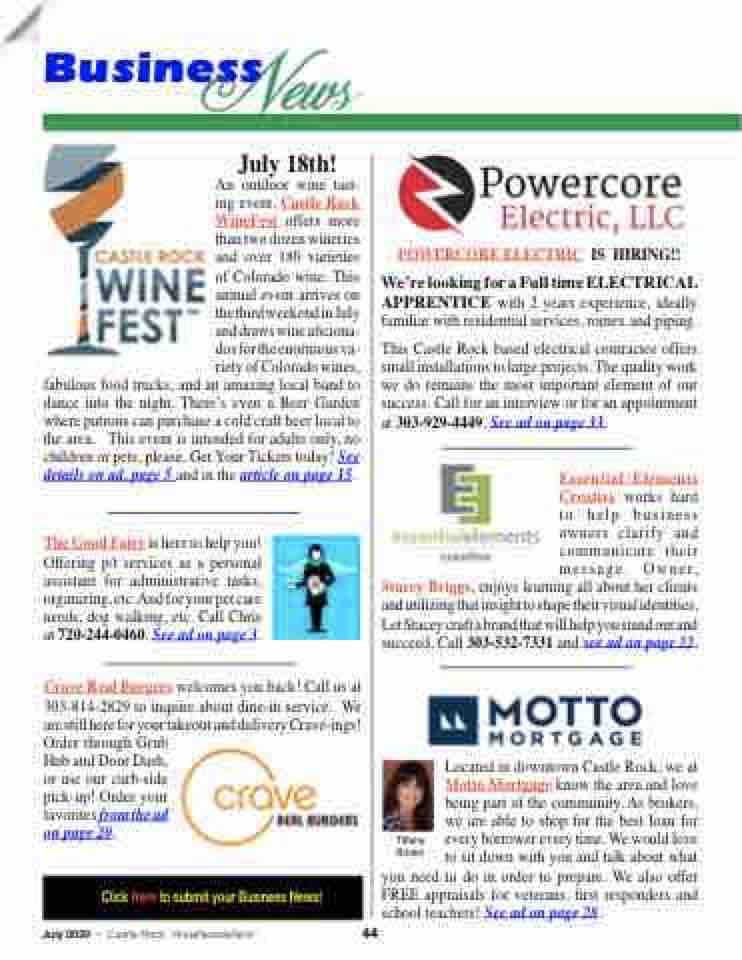 Business
News
July 18th!
An outdoor wine tast- ing event, Castle Rock WineFest offers more than two dozen wineries and over 180 varieties of Colorado wine. This annual event arrives on the third weekend in July and draws wine a ciona- dos for the enormous va- riety of Colorado wines,
POWERCORE ELECTRIC IS HIRING!!
We're looking for a Full time ELECTRICAL APPRENTICE with 2 years experience, ideally familiar with residential services, romex and piping.
This Castle Rock based electrical contractor offers small installations to large projects. The quality work we do remains the most important element of our success. Call for an interview or for an appointment at 303-929-4449. See ad on page 33.
Essential Elements Creative works hard to help business owners clarify and communicate their message. Owner,
fabulous food trucks, and an amazing local band to dance into the night. There's even a Beer Garden where patrons can purchase a cold craft beer local to the area. This event is intended for adults only, no children or pets, please. Get Your Tickets today! See details on ad, page 5 and in the article on page 15.
The Good Fairy is here to help you! Offering p/t services as a personal assistant for administrative tasks, organizing, etc. And for your pet care needs, dog walking, etc. Call Chris at 720-244-0460. See ad on page 3.
Stacey Briggs, enjoys learning all about her clients and utilizing that insight to shape their visual identities. Let Stacey craft a brand that will help you stand out and succeed. Call 303-532-7331 and see ad on page 22.
Crave Real Burgers welcomes you back! Call us at 303-814-2829 to inquire about dine-in service. We are still here for your takeout and delivery Crave-ings! Order through Grub
Hub and Door Dash, or use our curb-side pick-up! Order your favorites from the ad on page 20.
Tiffany Brown
Located in downtown Castle Rock, we at Motto Mortgage know the area and love being part of the community. As brokers, we are able to shop for the best loan for every borrower every time. We would love to sit down with you and talk about what
Click Here to submit your Business News!
July 2020 • Castle Rock "AreaNewsletters" 44
you need to do in order to prepare. We also offer FREE appraisals for veterans,  rst responders and school teachers! See ad on page 28.