Page 222 - MBS 2022/23
P. 222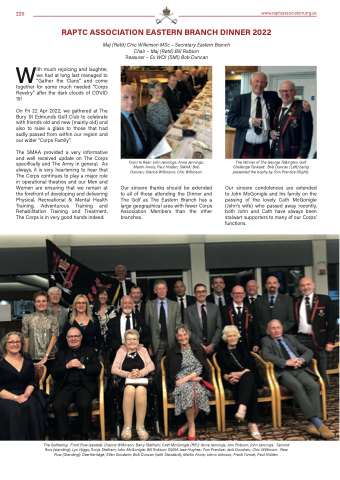 220
www.raptcassociation.org.uk
  RAPTC ASSOCIATION EASTERN BRANCH DINNER 2022
With much rejoicing and laughter, we had at long last managed to "Gather the Clans" and come together for some much needed "Corps Revelry" after the dark clouds of COVID 19!
On Fri 22 Apr 2022, we gathered at The Bury St Edmunds Golf Club to celebrate with friends old and new (mainly old) and also to raise a glass to those that had sadly passed from within our region and our wider "Corps Family".
The SMAA provided a very informative and well received update on The Corps specifically and The Army in general. As always, it is very heartening to hear that The Corps continues to play a major role in operational theatres and our Men and Women are ensuring that we remain at the forefront of developing and delivering Physical, Recreational & Mental Health Training, Adventurous Training and Rehabilitation Training and Treatment. The Corps is in very good hands indeed.
Treasurer – Ex WO1 (SMI) Bob Duncan
Front to Rear: John Jennings; Anne Jennings; Martin Annis; Paul Holden; SMAA; Bob Duncan; Dianne Wilkinson; Chic Wilkinson.
Our sincere thanks should be extended to all of those attending the Dinner and The Golf as The Eastern Branch has a large geographical area with fewer Corps Association Members than the other branches.
The Winner of The George Talkington Golf Challenge Tankard: Bob Duncan (Left) being presented the trophy by Tom Prentice (Right).
Our sincere condolences are extended to John McGonigle and his family on the passing of the lovely Cath McGonigle (John's wife) who passed away recently, both John and Cath have always been stalwart supporters to many of our Corps' functions.
Maj (Retd) Chic Wilkinson MSc – Secretary Eastern Branch Chair – Maj (Retd) Bill Robson
   The Gathering. Front Row (seated): Dianne Wilkinson; Barry Statham; Cath McGonigle (RIP); Anne Jennings; Ann Robson; John Jennings. Second Row (standing): Lyn Higgs; Sonja Statham; John McGonigle; Bill Robson; SMAA Jase Hughes; Tom Prentice; Jack Goodwin; Chic Wilkinson. Rear Row (Standing): Dee Kerridge; Ellen Goodwin; Bob Duncan (with Standard); Martin Annis; Johno Johnson; Frank Turmel; Paul Holden.