Page 6 - Jigsaw March 2021
P. 6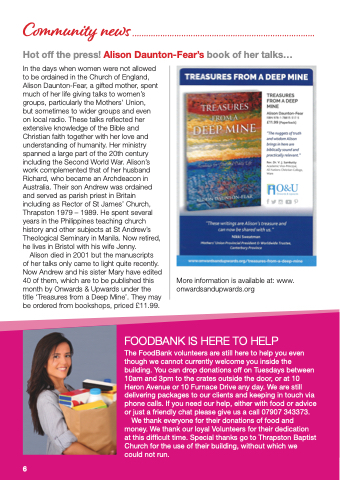 Community news..............................................................................
Hot off the press! Alison Daunton-Fear's book of her talks...
In the days when women were not allowed to be ordained in the Church of England, Alison Daunton-Fear, a gifted mother, spent much of her life giving talks to women's groups, particularly the Mothers' Union,
but sometimes to wider groups and even
on local radio. These talks reflected her extensive knowledge of the Bible and Christian faith together with her love and understanding of humanity. Her ministry spanned a large part of the 20th century including the Second World War. Alison's work complemented that of her husband Richard, who became an Archdeacon in Australia. Their son Andrew was ordained and served as parish priest in Britain including as Rector of St James' Church, Thrapston 1979 – 1989. He spent several years in the Philippines teaching church history and other subjects at St Andrew's Theological Seminary in Manila. Now retired, he lives in Bristol with his wife Jenny.
Alison died in 2001 but the manuscripts
of her talks only came to light quite recently. Now Andrew and his sister Mary have edited 40 of them, which are to be published this month by Onwards & Upwards under the title 'Treasures from a Deep Mine'. They may be ordered from bookshops, priced £11.99.
More information is available at: www. onwardsandupwards.org
    6
FOODBANK IS HERE TO HELP
The FoodBank volunteers are still here to help you even though we cannot currently welcome you inside the building. You can drop donations off on Tuesdays between 10am and 3pm to the crates outside the door, or at 10 Heron Avenue or 10 Furnace Drive any day. We are still delivering packages to our clients and keeping in touch via phone calls. If you need our help, either with food or advice or just a friendly chat please give us a call 07907 343373.
We thank everyone for their donations of food and money. We thank our loyal Volunteers for their dedication at this difficult time. Special thanks go to Thrapston Baptist Church for the use of their building, without which we could not run.