Page 16 - Walks In The Black Range, Vol. 4
P. 16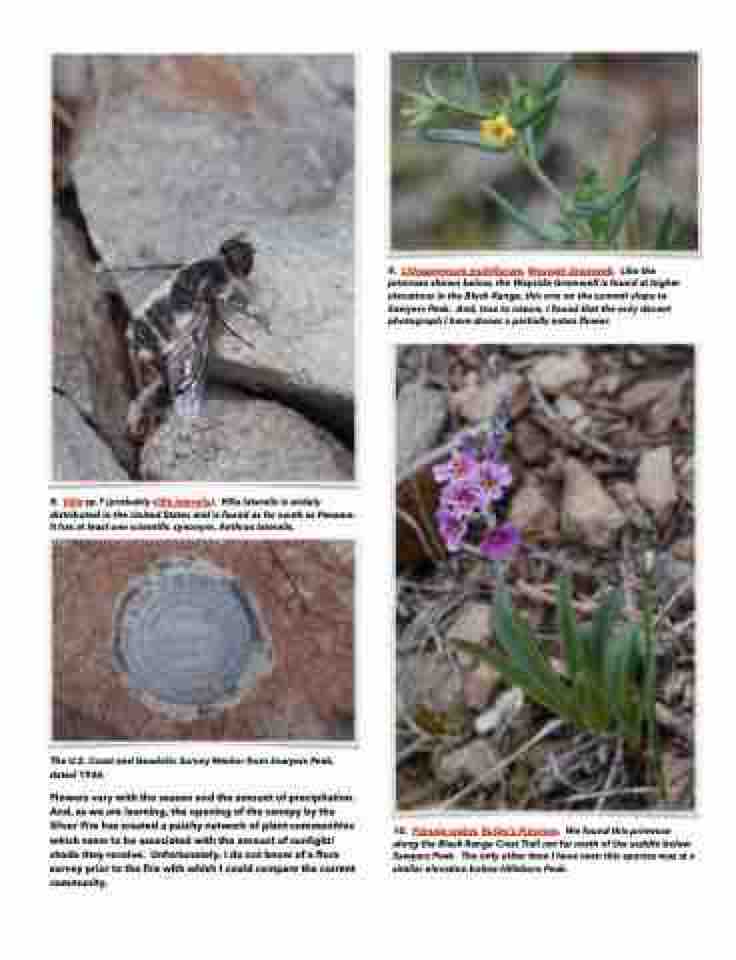 9. Lithospermum multiflorum, Wayside Gromwell. Like the primrose shown below, the Wayside Gromwell is found at higher elevations in the Black Range, this one on the summit slope to Sawyers Peak. And, true to nature, I found that the only decent photograph I have shows a partially eaten flower.
   8. Villa sp.? (probably Villa lateralis). Villa lateralis is widely distributed in the United States and is found as far south as Panama. It has at least one scientific synonym, Anthrax lateralis.
The U.S. Coast and Geodetic Survey Marker from Sawyers Peak, dated 1936.


Flowers vary with the season and the amount of precipitation. And, as we are learning, the opening of the canopy by the Silver Fire has created a patchy network of plant communities which seem to be associated with the amount of sunlight/ shade they receive. Unfortunately, I do not know of a flora survey prior to the fire with which I could compare the current community.
10. Primula rusbyi, Rusby's Primrose. We found this primrose along the Black Range Crest Trail not far north of the saddle below Sawyers Peak. The only other time I have seen this species was at a similar elevation below Hillsboro Peak.