Page 18 - Walks In The Black Range, Vol. 4
P. 18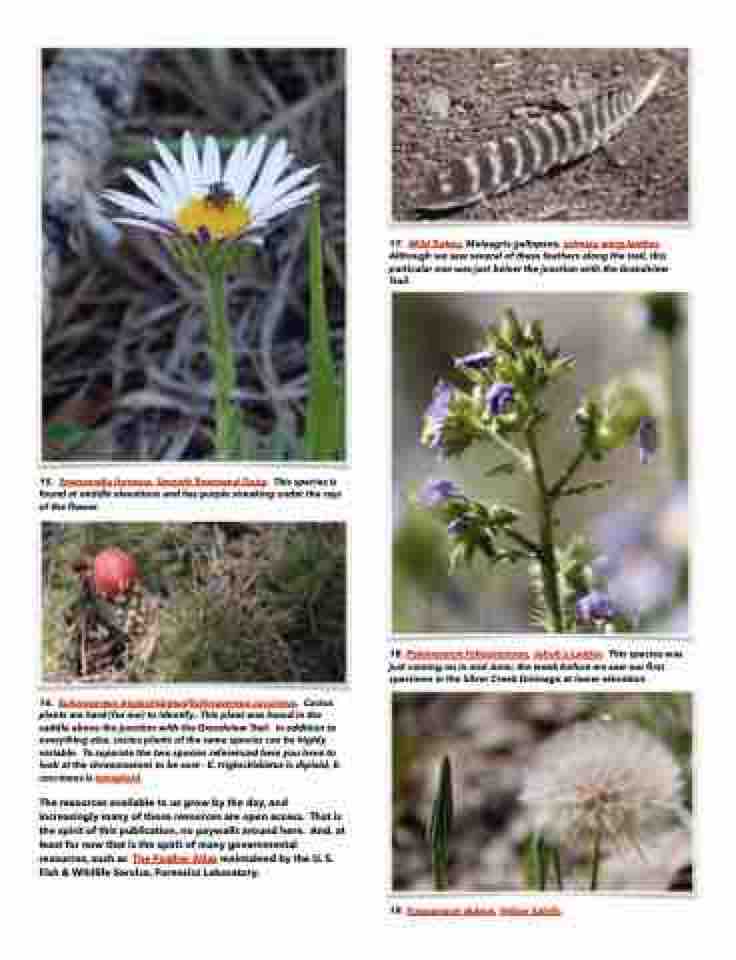 17. Wild Turkey, Meleagris gallopavo, primary wing feather. Although we saw several of these feathers along the trail, this particular one was just below the junction with the Grandview Trail.
   15. Townsendia formosa, Smooth Townsend Daisy. This species is found at middle elevations and has purple streaking under the rays of the flower.
   18. Polemonium foliosissimum, Jabob's Ladder. This species was just coming on in mid June; the week before we saw our first specimen in the Silver Creek Drainage at lower elevation.
   16. Echinocereus triglochidiatus/Echinocereus coccineus. Cactus plants are hard (for me) to identify. This plant was found in the saddle above the junction with the Grandview Trail. In addition to everything else, cactus plants of the same species can be highly variable. To separate the two species referenced here you have to look at the chromosomes to be sure - E. triglochidiatus is diploid, E. 
coccineus is tetraploid.


The resources available to us grow by the day, and increasingly many of those resources are open access. That is the spirit of this publication, no paywalls around here. And, at least for now that is the spirit of many governmental resources, such as The Feather Atlas maintained by the U. S. Fish & Wildlife Service, Forensics Laboratory.
    19. Tragopogon dubius, Yellow Salsify.