Page 54 - March 2021
P. 54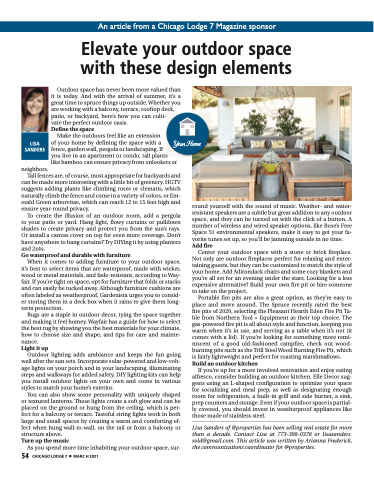 An article from a Chicago Lodge 7 Magazine sponsor
 Elevate your outdoor space with these design elements
Outdoor space has never been more valued than it is today. And with the arrival of summer, it's a great time to spruce things up outside. Whether you are working with a balcony, terrace, rooftop deck, patio, or backyard, here's how you can culti-
vate the perfect outdoor oasis.
Define the space
Make the outdoors feel like an extension
of your home by defining the space with a fence, garden wall, pergola or landscaping. If
you live in an apartment or condo, tall plants like bamboo can ensure privacy from onlookers or
neighbors.
Tall fences are, of course, most appropriate for backyards and
can be made more interesting with a little bit of greenery. HGTV suggests adding plants like climbing roses or clematis, which naturally climb the fence and come in a variety of colors, or Em- erald Green arborvitae, which can reach 12 to 15 feet high and ensure year-round privacy.
To create the illusion of an outdoor room, add a pergola to your patio or yard. Hang light, flowy curtains or pulldown shades to create privacy and protect you from the sun's rays. Or install a canvas cover on top for even more coverage. Don't have anywhere to hang curtains? Try DIYing it by using planters and 2x4s.
Go waterproof and durable with furniture
When it comes to adding furniture to your outdoor space, it's best to select items that are waterproof, made with wicker, wood or metal materials, and fade-resistant, according to Way- fair. If you're tight on space, opt for furniture that folds or stacks and can easily be tucked away. Although furniture cushions are often labeled as weatherproof, Gardenista urges you to consid- er storing them in a deck box when it rains to give them long- term protection.
Rugs are a staple in outdoor decor, tying the space together and making it feel homey. Wayfair has a guide for how to select the best rug by showing you the best materials for your climate, how to choose size and shape, and tips for care and mainte- nance.
Light it up
Outdoor lighting adds ambiance and keeps the fun going well after the sun sets. Incorporate solar-powered and low-volt- age lights on your porch and in your landscaping, illuminating steps and walkways for added safety. DIY lighting kits can help you install outdoor lights on your own and come in various styles to match your home's exterior.
You can also show some personality with uniquely shaped or textured lanterns. These lights create a soft glow and can be placed on the ground or hung from the ceiling, which is per- fect for a balcony or terrace. Tasteful string lights work in both large and small spaces by creating a warm and comforting ef- fect when hung wall-to-wall, on the rail or from a balcony or structure above.
Turn up the music
As you spend more time inhabiting your outdoor space, sur-
54 CHICAGO LODGE 7 ■ MARC H 2021
    LISA SANDERS
Your Home
round yourself with the sound of music. Weather- and water- resistant speakers are a subtle but great addition to any outdoor space, and they can be turned on with the click of a button. A number of wireless and wired speaker options, like Bose's Free Space 51 environmental speakers, make it easy to get your fa- vorite tunes set up, so you'll be jamming outside in no time. Add fire
Center your outdoor space with a stone or brick fireplace. Not only are outdoor fireplaces perfect for relaxing and enter- taining guests, but they can be customized to match the style of your home. Add Adirondack chairs and some cozy blankets and you're all set for an evening under the stars. Looking for a less expensive alternative? Build your own fire pit or hire someone to take on the project.
Portable fire pits are also a great option, as they're easy to place and move around. The Spruce recently rated the best fire pits of 2020, selecting the Pleasant Hearth Eden Fire Pit Ta- ble from Northern Tool + Equipment as their top choice. The gas-powered fire pit is all about style and function, keeping you warm when it's in use, and serving as a table when it's not (it comes with a lid). If you're looking for something more remi- niscent of a good old-fashioned campfire, check out wood- burning pits such as the Trill Steel Wood Burning Fire Pit, which is fairly lightweight and perfect for roasting marshmallows. Build an outdoor kitchen
If you're up for a more involved renovation and enjoy eating alfresco, consider building an outdoor kitchen. Elle Decor sug- gests using an L-shaped configuration to optimize your space for socializing and meal prep, as well as designating enough room for refrigeration, a built-in grill and side burner, a sink, prep counters and storage. Even if your outdoor space is partial- ly covered, you should invest in weatherproof appliances like those made of stainless steel.
Lisa Sanders of @properties has been selling real estate for more than a decade. Contact Lisa at 773-398-0378 or lisasanders. sold@gmail.com. This article was written by Arianna Frederick, the communications coordinator for @properties.