Page 8 - Microsoft Word - Master Series Owner's Manual.docx
P. 8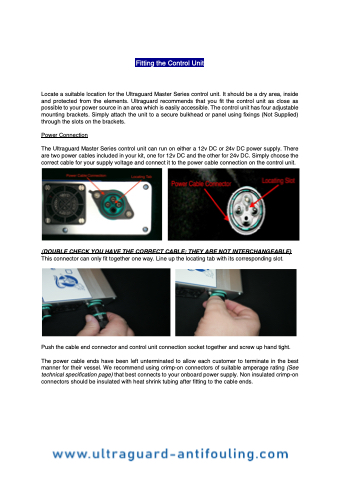 Fitting the Control Unit
Locate a suitable location for the Ultraguard Master Series control unit. It should be a dry area, inside and protected from the elements. Ultraguard recommends that you fit the control unit as close as possible to your power source in an area which is easily accessible. The control unit has four adjustable mounting brackets. Simply attach the unit to a secure bulkhead or panel using fixings (Not Supplied) through the slots on the brackets.
Power Connection
The Ultraguard Master Series control unit can run on either a 12v DC or 24v DC power supply. There are two power cables included in your kit, one for 12v DC and the other for 24v DC. Simply choose the correct cable for your supply voltage and connect it to the power cable connection on the control unit.
(DOUBLE CHECK YOU HAVE THE CORRECT CABLE; THEY ARE NOT INTERCHANGEABLE) This connector can only fit together one way. Line up the locating tab with its corresponding slot.
Push the cable end connector and control unit connection socket together and screw up hand tight.
The power cable ends have been left unterminated to allow each customer to terminate in the best manner for their vessel. We recommend using crimp-on connectors of suitable amperage rating (See technical specification page) that best connects to your onboard power supply. Non insulated crimp-on connectors should be insulated with heat shrink tubing after fitting to the cable ends.