Page 4 - Capturing_Wild
P. 4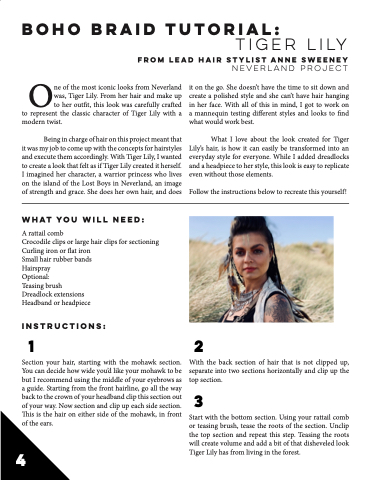 boho braid tutorial:
One of the most iconic looks from Neverland was, Tiger Lily. From her hair and make up to her outfit, this look was carefully crafted
to represent the classic character of Tiger Lily with a modern twist.
Being in charge of hair on this project meant that it was my job to come up with the concepts for hairstyles and execute them accordingly. With Tiger Lily, I wanted to create a look that felt as if Tiger Lily created it herself. I imagined her character, a warrior princess who lives on the island of the Lost Boys in Neverland, an image of strength and grace. She does her own hair, and does
What you will need:
A rattail comb
Crocodile clips or large hair clips for sectioning Curling iron or flat iron
Small hair rubber bands
Hairspray
Optional:
Teasing brush
Dreadlock extensions
Headband or headpiece
Instructions:
NEVERLAND PROJECT
it on the go. She doesn't have the time to sit down and create a polished style and she can't have hair hanging in her face. With all of this in mind, I got to work on a mannequin testing different styles and looks to find what would work best.
What I love about the look created for Tiger Lily's hair, is how it can easily be transformed into an everyday style for everyone. While I added dreadlocks and a headpiece to her style, this look is easy to replicate even without those elements.
Follow the instructions below to recreate this yourself!
tiger lily
FROM Lead hair stylist anne sweeney
  12
Section your hair, starting with the mohawk section. You can decide how wide you'd like your mohawk to be but I recommend using the middle of your eyebrows as a guide. Starting from the front hairline, go all the way back to the crown of your headband clip this section out of your way. Now section and clip up each side section. This is the hair on either side of the mohawk, in front of the ears.
4
With the back section of hair that is not clipped up, separate into two sections horizontally and clip up the top section.
3
Start with the bottom section. Using your rattail comb or teasing brush, tease the roots of the section. Unclip the top section and repeat this step. Teasing the roots will create volume and add a bit of that disheveled look Tiger Lily has from living in the forest.