Page 19 - The Merivale Collection
P. 19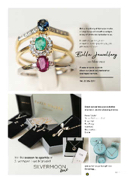 Bella Jewellery of Merivale stocks a large range of beautiful designs, many of which are exclusive to us.
In addition, we design and manufacture fine jewellery in gold, platinum and silver.
OF MERIVALE
Please enquire in-store
about our jewellery restoration and repair service.
Tel: 03 356 2377
Check out our fabulous collection
of some of the world leading brands:
Karen Walker
Stolen Girlfriends Club Kirstin Ash
Boh Runga
Swarovski Meadlowlark
Evolve
       It's the season to sparkle at Silvermoon Luxe Merivale!
Ask us for the perfect gift this Christmas...
PAGE 19.